Like many of the sleekest kitchen design elements, such as the stone countertop and the minimalist widespread faucet, the glass backsplash evokes European sensibilities and has been popular there for years. Today, glass backsplashes are just as popular in North America because glass offers an easy-to-clean and stylish design option for the contemporary kitchen that can actually cost less than many of the alternatives. Glass lightens the kitchen, and unlike some materials, it isn't flammable, so you can install it behind the stove.
The main drawback of a glass sheet backsplash for the DIY renovator is that it isn't one that you can make yourself unless your workshop happens to include precision glass-working equipment. You can have one custom made and install it yourself, but even installation is a tricky job best left to pros. Yes, you'll probably need to pay for a contractor to do the job, but that may not be a deal breaker after you consider the benefits of solid glass over other backsplash materials.
It's a Solid Glass Backsplash, Not Glass Tiles
A glass sheet backsplash is like a window covering the wall behind your kitchen stove and counter, and although you can't see through it to the outdoors, it provides all the same reflectivity of a window. It's a solid sheet of glass that can cover the entire wall or just part of it, and it may be clear, frosted or painted on the back. If you love your existing wallpaper, covering it with a clear glass backsplash is a great way to preserve it, whereas a painted backsplash can bring a brand-new design element into a kitchen hankering for some pizzazz.
As opposed to a glass tile backsplash, a glass sheet backsplash has no pattern and no grout lines to keep clean. Instead, it provides a solid, hygienic surface that is as easy to keep clean as your stone countertops — even easier. Glass may not catch the eye as aggressively as some other materials, but its reflectivity can have a noticeable effect on spacial perception, and it can bring light into a kitchen that needs it.
In fact, its ability to bring light into a too-dark kitchen is one of the main reasons people choose a solid glass backsplash. Mirrors can also do that, but high reflectivity can be distracting in a busy kitchen. Placed in front of a window or strategically placed room lights, solid glass magnifies the light in a beneficial, noninvasive way.
One Drawback to Consider
Almost every online review of glass backsplashes mentions cost as a possible deterrent, but when you compare backsplash prices on such online sources as Kitchen Remodel Guides, you find that solid glass falls midrange in the list of available materials. At a cost of $20 to $30 per square foot for materials and $8 to $15 for installation, you're looking at a maximum cost of $45 per square foot. According to 2020 prices quoted on Fixr, that's less than it costs to professionally install ceramic tile, stone, ceiling tile and metal.
The drawback is that while you can save money by installing most backsplash materials yourself (with the exception of stone), you'll probably need to hire a pro to install solid glass. You can do the job if you have above-average skills, but if you make a mistake, you could expose the back wall to water seepage or even break the backsplash. It's best to not risk it and plan on spending the extra cash instead.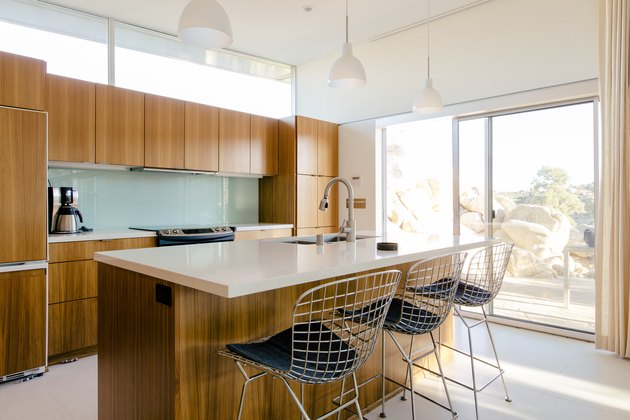 Solid Glass Options
The Seattle Times says that most glass backsplashes are made from 1/4-inch glass, but thicknesses up to 1 inch are available. If you want the glass to transmit vivid colors from the background while being barely noticeable in itself, choose glass with a low iron content. Glass is annealed, like window glass, or tempered to reduce shattering hazards, like auto glass. Annealed glass can be drilled, whereas tempered glass cannot, and some installations require drilling.
You can choose clear glass to protect and enhance your favorite wallpaper, or you can choose frosted glass, which will assume the hue of the wall color behind it. A slightly more expensive option is backpainted glass, which is coated on the back side with a baked-on finish that won't peel or chip. A premium option is to select translucent colored glass, which provides its own color while allowing the background wall to be visible.
The glass can be cut in a variety of shapes, so you don't necessarily have to settle for a rectangular backsplash. You could, for example, choose a semicircular glass panel to place behind the sink and a square one to place behind the stove. It's more common, however, to have the entire backsplash manufactured as a single piece at the factory with outlet openings custom cut in all the right places.
What's Involved With Installation?
It goes without saying that a glass backsplash must be installed on a flat surface, so the wall may need some preparation. Any existing tile, wood or metal backsplash will have to be removed and any adhesive residue scraped off, and this may add a bit to the total installation costs — perhaps $1 to $3 per square foot. Don't forget to include this part of the job in the initial estimate.
Installers typically stick the glass to the wall with adhesive. While construction adhesive is strong enough to do the job and some installers use it, silicone caulk is more flexible, and because it's transparent, it works better with clear and frosted glass. However, it's still visible, so after consulting with the installer, you may opt to have your backsplash mechanically affixed with screws. That requires predrilled holes, so it rules out tempered glass as an option.
Once the adhesive has set, the edges are sealed with silicone caulk to keep moisture from seeping behind the backsplash and damaging the wall. You may then opt to have trim installed around the edges of the backsplash if the glass has a regular shape that can accommodate it. Otherwise, a glass sheet backsplash usually comes with beveled edges, which is usually all you need for a finished look.
What About a Removable Glass Backsplash?
A full-size solid glass backsplash tends to be big and heavy, so once it's in place, most people want it to stay where it is. If you're looking for a removable backsplash to cover the entire wall, you have many easier alternatives to glass, including self-adhesive wallpaper, peel-and-stick tiles and chalkboard paint. A partial backsplash that rises 6 or so inches above the top edge of the countertop, however, is a different matter. It's fairly easy to make that removable.
One way to do it is to use hanger bolts, which have coarse threads on one end to screw into the studs and fine threads on the other end for retaining nuts. You have to drill holes in the glass to use them. In lieu of anchor bolts, you can install removable trim around the edges of the backsplash. Since your intention is probably to remove the backsplash periodically and clean behind it, you don't caulk the edges, so it's important to monitor the top edge for moisture and clean the back wall whenever you notice any.
---
Chris Deziel is a contractor, builder and general fix-it pro who has been active in the construction trades for 40 years. He has degrees in science and humanities and years of teaching experience. An avid craftsman and musician, Deziel began writing on home improvement topics in 2010. He worked as an expert consultant with eHow Now and Pro Referral -- a Home Depot site. A DIYer by nature, Deziel regularly shares tips and tricks for a better home and garden at Hunker.com.
View Work