You have to make a decision between sanded vs unsanded grout when you're adding the finishing touches to your DIY tile project, but that isn't the only one. The right tile grout — properly applied — is as important to the final appearance of the project as the tiles themselves. There's a difference in texture between sanded and unsanded grout, and grout color is as important as texture — perhaps more so — and let's not forget durability. You want a tough grout that will last for years without cracking due to shrinkage.
Tile color has a bearing on the grout you choose, but so does the type of tile you use. Large ceramic tile typically has wide tile joints, and the grout you use to fill them is qualitatively different from the grout you use to fill thin grout lines between small porcelain tiles. Moreover, stone tile, natural stone, and glass tile all have their own grouting requirements. It also makes a difference whether you're grouting wall tiles or floor tiles and in which room of the house the walls and floors are located.
Grout in bathrooms, kitchens, and other damp areas needs to be waterproof. It's the job of the grout sealer to guarantee this, but sealer doesn't last forever. If you forget to apply more every few years or more, mold can get a foothold, and once it does, you might have a hard time getting rid of it. Some types of grout are more porous and susceptible to this problem than others.
In your search for the best grout for your tile project, you'll come across three common types: cementitious, epoxy-based, and premixed grout. You can also find hybrid products that combine the properties of cementitious and epoxy grout. Each type of grout has its pros and cons and best uses. DIY home improvement warriors doing their first tiling job should keep in mind that some types of grout can be difficult to apply, and mistakes can be difficult to correct. Trying to save money by doing the job yourself may not be in your best interest and may result in having to regrout.
The primary ingredient in cementitious grout is Portland cement, which turns hard when mixed with water. Filler aggregate, usually sand, may be added to the cement to give the grout body and strength, and the mixture is then known as sanded grout. When the aggregate is omitted, the mixture is known as unsanded grout. A latex polymer is often added to sanded grout to give it strength.
Cement-based grout usually also has an added pigment for coloration. If not, you can add the pigment yourself, or you can alter the color by adding pigmentation, which may be necessary if you're having a hard time getting a color match.
Epoxy grout is a two-part product, and the parts have to be mixed before use. It has none of the porosity of cementitious grout, so it's completely waterproof and never needs a sealer. Epoxy grout includes the resin itself, a hardening agent, silica filler materials, and pigments. It sometimes comes in tubes that allow you to apply it like caulk, which is handy for a small job, such as a tile backsplash.
Besides being waterproof, epoxy is harder than cement and has better adhesion, but the tradeoff is a plasticlike appearance that can look artificial. To remedy this, some manufacturers offer hybrid grout, which is a modified epoxy mixture with a Portland cement additive. You can clean off excess hybrid and epoxy grout with a wet sponge during application. To remove haze from the tiles after the product has dried, you may need a solution of vinegar and water.
Premixed grout has properties similar to epoxy or hybrid mixtures, but it usually contains urethane or acrylic as a base instead of epoxy. You can use it right out of the container, which is convenient, and it sets as hard as epoxy, but it's too expensive to use for large jobs. It's harder to apply than other types of grout and can have a somewhat artificial appearance when it sets.
Comparing Grout Types
| | Cementitious | Epoxy | Premixed |
| --- | --- | --- | --- |
| ‌Requires mixing‌ | Yes | Yes | No |
| ‌Requires sealing‌ | Yes | No | No |
| ‌Cleans up with water‌ | Yes | Yes | Yes |
| ‌Pigmented‌ | Yes | Yes | Yes |
| ‌Cost‌ | Economical | Expensive | Midrange |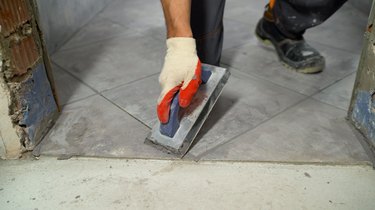 If you choose cementitious grout (or some types of hybrid epoxy or premixed grout), you have a choice between sanded vs unsanded grout. The decision concerning which grout to use hinges on the type of tile you install and the width of the grout lines between the tiles. The addition of sand makes cementitious grout stronger, but sand can scratch glass and polished stone, so nonsanded grout is preferable when installing these types of tiles.
Unsanded grout isn't as thick as unsanded grout, but because it contains no aggregate, it has better adhesion and is preferable for a vertical surface, like a shower wall or a kitchen backsplash. Sanded grout, on the other hand, shrinks less and is less likely to crack or slump, which makes it the right grout for floors, especially in high-traffic areas, as well as for other horizontal surfaces, such as countertops.
Because of the aggregate filler, sanded grout doesn't fit well into narrow grout lines, such as those you often get when laying porcelain tiles. As a rule of thumb, you use unsanded grout for grout lines that are from 1/16 to 1/8 inch wide and sanded grout for wider lines. Keep in mind that it depends on the type of tile because sand can scratch delicate materials. If you need a durable, safe alternative to sanded grout for large grout lines, consider epoxy.
Grout lines 1/8 inch wide or less.Glass, polished stone, and other fragile materials.Walls and other vertical tile surfaces.
Sanded vs Unsanded Grout
Sanded

Unsanded

‌Use for:‌

— Grout lines wider than 1/8 inch

— Floor tiles, especially in areas with heavy foot traffic

— Other horizontal surfaces, such as countertops

— Grout lines 1/8 inch wide or less

— Glass, polished stone, and other fragile materials

— Walls and other vertical tile surfaces

‌Pros‌

— Durable

— Resists cracking and shrinking

— Less expensive

— More color choices

— Better adhesion

— Resists slumping

— Won't scratch fragile materials

‌Cons‌

— Can scratch glass and soft or polished stone

— Difficult to force into narrow joints

— Requires sealing

— Slumps in wide grout joints

— More expensive

— Fewer color choices
How to Choose Grout Color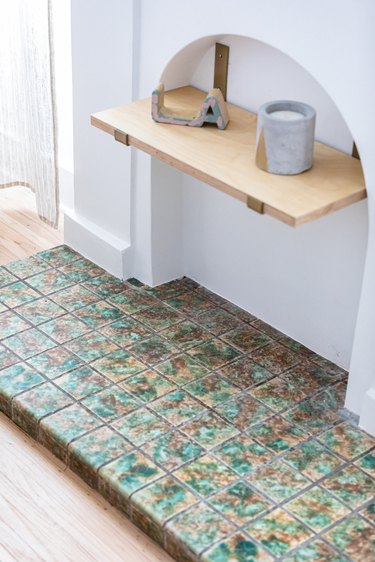 When a homeowner is trying to decide which grout to use for a tile installation, color is an issue that's always at the top of the priority list, and making the right choice is partly art and partly science. The artistic part is choosing the hue, which can match the tiles or contrast with them to better highlight the tiles and/or their pattern. Although the tiles are the main consideration, you could conceivably choose a grout color to match the walls or another design element in the room.
The scientific part is assuring the color you see on the packaging or color chip is the color you'll actually see when you use the grout. Grout tends to lighten in color as it dries, so if you plan to leave the grout unsealed, you might be disappointed to find that the final color is a few shades lighter than you expected. The grout will likely darken somewhat if you apply sealer, but it may not match the color chip exactly. This is why you should mix a sample batch, let it dry, and check the color before making a final decision to use the grout. If you plan to use a sealer, test that, too.
If you happen to be unsatisfied with the color, you have options other than taking the grout back to the store. If the color is lighter than expected, you can darken it by applying a surface colorant or a pigmented sealer. If the color is very different than what you want — perhaps you're repurposing old grout for your present tile project — you can also mix pigment directly into the grout. The process isn't much different than mixing paint, but be sure to mix a batch big enough for the entire project. If you have to mix a second batch, you'll probably have a hard time getting it to match the first one.
Best Grout for Shower Tile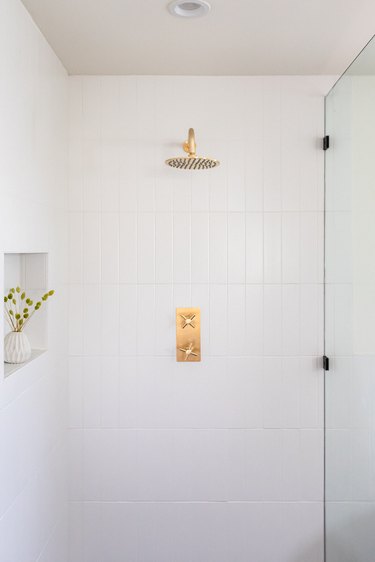 Of all tile applications, shower tile will suffer the most abuse, so shower grout has to be extra durable. It has to be completely waterproof, of course, but it should also be easy to clean. Hard water deposits and mold are problems in any shower, and they are easier to remove from some types of grout than others. On the whole, epoxy grout is the best grout for shower tile.
Epoxy grout is quite a bit more expensive than cement-based grout, but it's worth the extra cost when high performance counts. It isn't porous like cementitious grout and doesn't need to be sealed. If you use cementitious grout and forget to seal it regularly, mold and bacteria can settle in the pores, and once that happens, they can be difficult to remove. The porosity of cementitious grout also makes cleaning hard water stains more difficult.
On the other hand, epoxy grout has a smooth, easy-to-clean surface. It won't shrink or crack in the shower environment, and you don't have to worry about microorganisms forming colonies inside it. Both sanded and unsanded varieties are available, so you can count on epoxy no matter what type of tile you install. It's a little more difficult to work with, though, considering that it starts to set as soon as you mix in the hardener, so if you decide to go for it, you might want to consider getting some professional help.