Things You'll Need
Two colors of paint

Painter's tape

Chalk snap line

Paintbrush

Straightedge or carpenter's square
Tip
Use a checkerboard stencil and a pounce brush or sponge for small craft projects to save time and effort.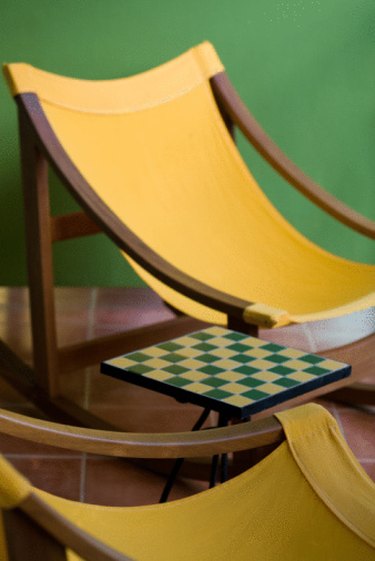 A checkerboard pattern can be used as an accent or border, as a floor design or even on a game table for use in checkers and chess. The technique is the same, though the scale and colors will vary. Choose two colors that suit your project. Black and white or red and black are classic checkerboard colors, but for an elegant floor pattern, two muted hues in the same color family can create a tiled appearance. Two bright colors in an unexpected combination will add funky fun to a playroom.
Step 1
Paint the entire surface with the lighter color of paint. Let it dry completely.
Step 2
Measure the item you're painting to determine the size of squares you want. Small items look best with a small pattern, while a large floor or wall is better suited to a large-scale pattern. Divide the space evenly among the desired number of squares if you don't want partial squares on the edges.
Step 3
Mark the measured squares with a chalk line, snapping it to create plumb lines. Line every other square with painter's tape.
Step 4
Paint inside the painter's tape squares with the darker paint color. Allow it to dry slightly and carefully remove the tape, touching up the edges as needed with a small brush and a straightedge.
Step 5
Add a protective urethane coat to the fully dried surface if it will be heavily used, as with a floor or game table.
---
Denise Howard has been writing since 2004, specializing in home and garden, travel, music and education. A private music instructor and professional accompanist, Howard holds a Bachelor of Arts in music, studying both piano and voice.