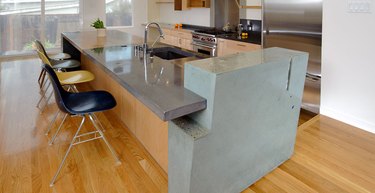 The durability of concrete has made it an attractive building material for centuries, whether it was being used for a grand structure or a simple countertop. A concrete kitchen countertop can resist scratches, heat, water, and stains if installed correctly (keyword: sealing), and has the potential to last a lifetime with proper maintenance. As the Pulitzer Prize–winning novelist Günter Grass wrote in The Tin Drum, "They swore by concrete. They built for eternity." Plus, you can customize a concrete counter to your heart's content by experimenting with different coatings and pigments and even adding other materials such as small keepsakes to the mix to truly make it like no other.
For first-timers, using concrete may be intimidating at first, but let these DIY concrete kitchen countertop ideas (and success stories) get you excited about the possibilities in store if you have the patience and time.
Use a concrete countertop form for ease of installation.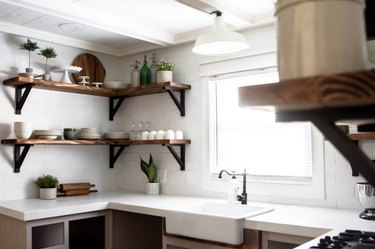 At first look or even second look, it's hard to believe this countertop is concrete, much less a DIY project, but sister duo Cassie and Sadie of Clover Lane revealed how easy it could be to make this your own. Their secret? Using a concrete countertop form Z Counterform, which means not having to create your own mold, saving you time, and getting you to the stage of pouring concrete faster.
Give your your counter or island a waterfall edge.
Layer over your existing countertop.
If you're looking for a countertop makeover versus a full countertop demo, concrete is a great solution. Robert and Lauren of Bless'er House transformed their formica countertop into a feather-finish concrete countertop that paired perfectly with their wood cabinets and white-washed brick backsplash. You can even do a concrete overlay over tile.
Now that you've seen some success stories, let's take your DIY kitchen concrete ideas and truly personalize them.
Color-block for a memorable effect.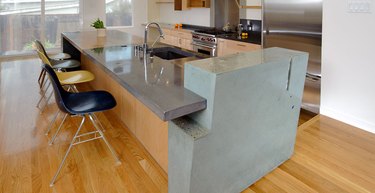 We're huge fans of how color-blocking brings a fun energy to any space. Make your concrete kitchen countertop a total conversation piece by employing different colors, as Cheolsa Kim did with this concrete island wonderland.
Add some flourish to your countertop edge.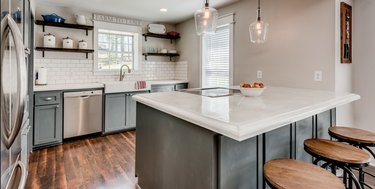 Not into a basic straight-angle edge? Don't worry, there are an array of forms for that — from a bullnose and half bullnose to a double-fancy radius! This concrete kitchen island countertop used an Ogee Edge from Concrete Countertop Solutions for a more elegant look.
Embed extra functionality into your counter.
If you are up for the challenge, think beyond a flat counter and design additional functionality into your concrete countertop to serve one or many needs. This brilliant concrete countertop design by Dale Blayone eliminates an extra item on the countertop by embedding a drainboard next to the sink. What would you add? For the ultimate party pad, we suggest this.