It's one of the most visited rooms in a home. The bathroom greets you in the morning and is often the last space you use before toddling off to bed. If the tile is smudged, dull or dirty, it can make the time spent in the bathroom less than a pleasing experience. Polishing bathroom tile is a small task with a big payoff.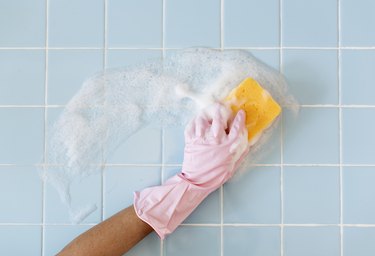 Tools and Tips to Get Started
In order to make bathroom tile shine, you'll need to gather a few tools. Tile is pretty hardy material, but make sure you use the correct scrubber so you don't scratch the tile by accident. Test a small area to ensure that it can handle nylon scrubbers or brushes or gritty sponges. A small bucket filled with cleaner can help you to move around the area without sloshing the solution. A spray bottle can work well for small jobs. Rubber gloves will keep your hands from drying out due to harsh cleaning agents. If you are using harsher commercial cleaning agents instead of homemade polishers, you might want to wear eye protection and a face mask.
Homemade Polishes and Cleaners
The best way to clean bathroom tiles that are simply dull from a lack of regular cleaning is with a solution of baking soda and vinegar. Sprinkle the baking soda over the toughest spots and spray a layer of vinegar over that. Let it sit and bubble for a few minutes. This will remove hard water spots as well as soap scum buildup. Scrub the baking soda and vinegar into the grout and over the tile to pull up soap stains and water deposit. Pour hot water over the tile and polish it with a soft cloth. For regular maintenance, homemade tile polish made of baking soda and water can be applied with a soft cloth.
Cleaning With Muriatic Acid
If you have serious soap scum or a buildup of spots from hard water, you may need to bring out the big guns to get your bathroom tile to shine. Muriatic acid works well and works quickly in removing unsightly spots and deposits. It's a harsh chemical, so be aware of the cautions that come with cleaning with muriatic acid. Always use rubber gloves and eye protection so the mix doesn't inadvertently get splashed into your eye or in case you accidentally rub your eye with the glove. Read all of the instructions on the bottle and cover your mouth and nose with a mask as an extra precaution. Apply the muriatic acid with a nylon scouring brush or pad and move it over the tile in small batches. Use small, circular motions to get the mix deep into the grout. Rinse the tile with cold water and repeat the process if needed to get the tile back to its former shining glory.