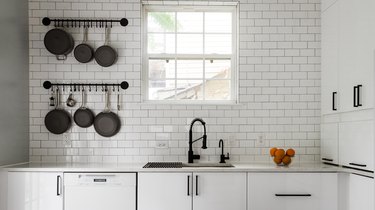 It's a forgotten fixture that provides a quiet aesthetic in your kitchen, and it's also where the hardest stains tend to end up. The backsplash gets the bulk of greasy splatters and sprays from the myriad dishes prepared in the kitchen. You may also end up with greasy grout on your countertops and floors. Cleaning kitchen tiles of grease and getting the stains out of the surrounding grout doesn't take long if you use the right cleaners and pair them with the best techniques.
Cleaning Kitchen Tiles of Grease
Whether you plan to use a homemade cleaner or a commercial cleaner, wearing a pair of gloves is ideal for getting into the nooks and crannies of tile and grout in the kitchen. The bits of food and cleaners can get under fingernails and irritate skin as you scrub away.
You'll also want to have at the ready a toothbrush for stubborn stains in tiny grout grooves, a soft-sided scrubber sponge for ceramic and glass tile and a nylon scrubbing brush for getting at clumps of batter, sauce or marinades that have clung to the countertop or backsplash. Have a stack of clean towels on hand for wiping up extra liquid and buffing away the residue from soaps and detergents to make the workspace shine.
Homemade Degreaser for Tile Grout
There are many degreaser cleaners on the market, and many smell like orange or lemon. The citrus action in the commercial detergents is what makes it a hardworking cleaner. You can make it at home with fresh lemons, baking soda and vinegar. The lemon juice removes tough stains because of its citric acid content; the baking soda is a mild abrasive; and vinegar dissolves grease.
This recipe for a homemade tile degreaser is found on the Kitchn website:
Combine one part lemon juice and one part vinegar.
Add two parts baking soda to the mixture and stir to make a paste.
Spread the paste over the grout and tile.
Make sure it has good contact with the hardest hit grease areas.
When you combine the ingredients for this degreaser, it will naturally fizz and become foamy, which is a normal chemical reaction.
A soda glass backsplash may get filmy during this process but won't be harmed by the gentle grease remover. Simply buff out the glass until its former shine returns. The RTA Store recommends using gentle circular motions when cleaning glass, marble and tile backsplashes.
Go Commercial for Serious Jobs
When globs of grease attach to the backsplash of the stove or countertop, use a few tricks and specialized commercial cleaners to erase it from the tile grout.
Among the stellar choices that are eco-friendly and nontoxic is Mrs. Meyer's Clean Day Cream Cleaner. It cuts through the tough grime on stovetops and countertops that can collect over time and be harder to remove. Fragrance choices include lavender, lemon verbena and geranium.
Tech Grout Cleaner is a little more serious and is sold at most home improvement stores. It's what professionals try for tough jobs. It's nonacidic, odorless and 100 percent biodegradable.
---
Kimberley McGee is an award-winning journalist with 20+ years of experience writing for a variety of clients, including The New York Times, Las Vegas Review-Journal Home section and other national publications. As a professional writer she has researched, interviewed sources and written about home improvement, interior design and related business trends. She earned a B.A. in Journalism from the University of Nevada, Las Vegas. Her full bio and clips can be viewed at www.vegaswriter.com.
View Work