Greasy, sticky, stuck or smeared in, a good chunk of junk on fabric, glass or other porous surface can ruin the piece. Getting out stains that have some yucky substance is Goo Gone's goal, and it tends to meet that goal in many sticky situations. But how does this seemingly magical household product rub off, remove and rid stains from clothes, picture frames, upholstery and carpets?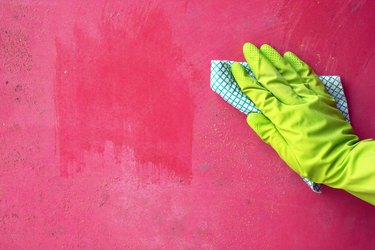 What Gives Goo Gone its Power
If you are wondering what's behind the cleaning power of the popular stain and grease remover, it's all about the citrus power. While orange and lemon peels, parts and juices have been used to clean and bring out the shine in household items for centuries, the makers of Goo Gone took the natural cleaning elements of citrus and boosted them to hyper clean. The natural citrus concentrate attacks the stain with enzymes that get under the grease of the sticky substance, such as price tags on glass, and lifts the gunk off the surface. Citrus contains the natural dissolvent, d-limone. This also makes it conveniently non-toxic and safe to use in laundry and other surfaces that come in contact with skin, eyes and any sensitive areas that could result in an allergic reaction or irritation. Another bonus is that d-limone leaves behind a citrus aroma that is pleasant to most neat nicks.
How Goo Gone Got Started
Sticky or greasy messes are a normal part of life for crafters, cooks and children. Getting rid of those blemishes created by adhesives or droplets of grease has been in the books for cleaning companies since the first label was slapped on a bottle and sold for profit. Goo Gone has been in the cupboards of clean freaks since its inception. It was created by Magic American in 1984 in Cleveland, Ohio.
When and Where to Use Goo Gone Safely
Wood, metal, glass and ceramic accept Goo Gone's cleaning abilities without letting the citrus-based cleaner break down or mar the surface of the object. It can remove splatters of tar from car bumpers, lipstick from shirt collars, globs of grease, stickers on picture frames, ink from lockers or mirrors and gum from blankets. It comes in gel sprays, bottles and basic sprays. Always follow the directions and, if there is any question the surface may be marred by the application of Goo Gone, test a small area in an unseen place before going ahead. Since it is a combination of citrus and scientific technology that is patented and under wraps, it is generally safe to use anywhere and on most anything.