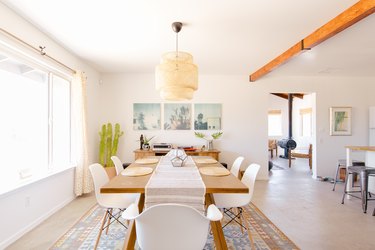 If there's one thing we love at Hunker, it's getting a look inside other people's houses, which is why we run so many different kinds of home tours. You could say we're kind of obsessed — but not in a creepy way (we hope!), more in a "we love what you did with the place" kind of way. Here, some of our favorite design ideas from living spaces that we found so inspirational, we raced to our Pinterest boards — and we think you will, too.
1. Add Overhead Shade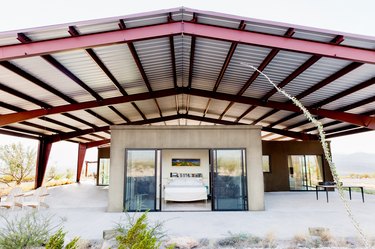 In order to protect this Marfa, Texas residence from the heat and sun, the owners built a 20-foot canopy to sit over the home and provide shady coverage. While putting an entire structure over your home might be unrealistic or on the ambitious side, a smaller scale version in your backyard that covers a cozy seating area could work perfectly.
2. Create a Wood Waterfall Island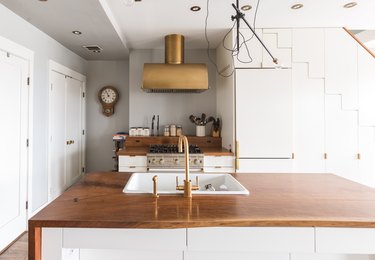 Brooklyn design firm Workstead collaborated with a local woodworker to create custom cabinetry for this home and what would become the star of the show: the kitchen island. Topped with a gorgeous raw-edge waterfall countertop, it's an unexpected design choice, and one that you'll definitely want to pin on your "Kitchens I'm Coveting" board.
3. Use an Oversized Table to Create a Focal Point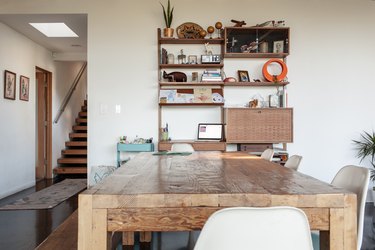 This custom-made, reclaimed wood dining room table is large and sturdy enough for an active family or for those of you who need a large space to plot out your DIYs. In this tour, it acts as an open-concept home's centerpiece, a place for meals, social gatherings, and everything in between. We love the sturdy, rustic feeling of this piece and can envision good friends, good food, and good wine gathered around it.
4. Create an Outdoor Oasis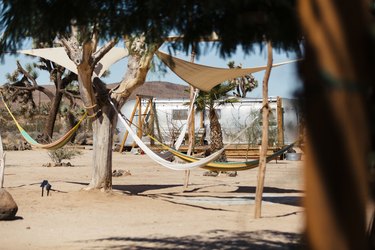 Welcome to Inspo Central, also known as the shared outdoor living area at this breezy Joshua Tree Airstream oasis, which features hammocks, outdoor tubs, and lounging areas meant to bring people together. To replicate this on a smaller scale, try adding a couple of breezy Anthro (or Target) hammocks to create a warm and welcoming boho-chic look in your backyard.
5. Decorate Your Walls With Items That Add Texture and Dimension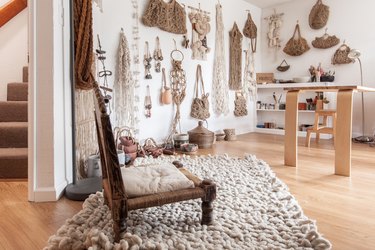 The owner of this geometric 1970s Lake Arrowhead cabin uses part of her house as her fashion design studio. And while her wall space may function as a way to organize her work, we think it's a pretty cool design idea to create a wallscape of macrame artwork and organic-feeling accents.
6. Landscape a Living Canvas
And then there's the landscaping. The owner's favorite aspect of his Ojai, California home is its ever-evolving outdoor canvas: "Each plant is going to do its own thing as they battle for the sun. Some do well. Some don't. And it's all going to unfold in the years to come." Dare we say, we're encouraged to put our brown thumb to work and add some drought-friendly desert plants to our outdoor space.
7. Fill in the Gaps With Art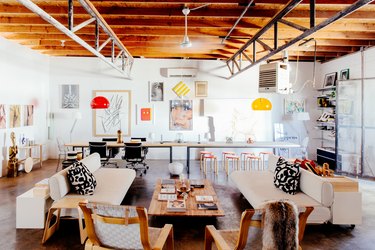 A vast loft-like living area in this modern Marfa, Texas home comes together thanks to a wide array of contemporary art, including a roster of top international artists, from Carol Bove to Darren Bader and Nate Lowman. If you're inspired to deck out your walls, our friends at Saatchi Art have curated a vast collection of artwork that's quirky, creative, beautiful, and won't break your bank.
8. Use Earthy Elements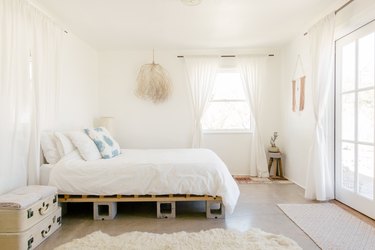 The bedroom of this high-low vintage-modern desert masterpiece showcases an effortless blend: a hand-built bed frame, vintage stacked suitcases, and, our favorite, a dried tumbleweed. While you may not have a tumbleweed rolling by your home, you can easily add earthy elements to your decor, like these clay wall bells.
9. Try the Boho-Minimalist Look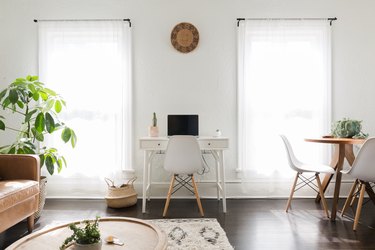 This L.A.-based photographer describes her studio apartment as bohemian-meets-minimalist: "Because the space is small, I wanted to make sure it never felt cluttered, but I wanted it to feel warm, inviting, and interesting." Spoiler: she nailed it. And, we now want to Marie Kondo our home.
10. Update Outdoor Spaces With Potted Plants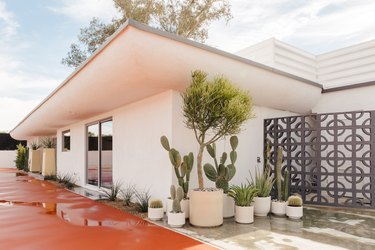 It's hard not to find inspiration both inside and outside this impeccable Palm Springs home by famed architect Albert Frey. We love the collection of white pots used here, along with a combo of different types and sizes of plants.
12. Mix Textiles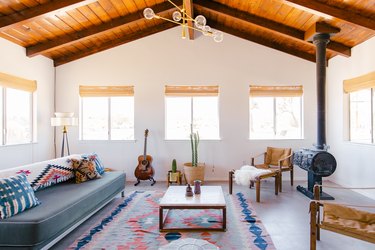 Don't be afraid to play with different patterns. What we love about this Joshua Tree escape is how the owner uses a variety of colorful textiles, from the rug, to the pillows, to the throw. It just ties a room together.
14. Experiment With Mixed Materials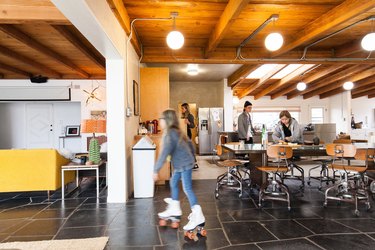 Mixing of materials is a big theme in this creative family compound — the open living space boasts a fireplace made of concrete blocks, exposed wood beams, and smooth stone flooring durable enough for five kids plus their pooch. (If you're not yet adding concrete to your home, no matter your aesthetic, now is the time! Here's an easy DIY to start.)
15. Go Bold With Color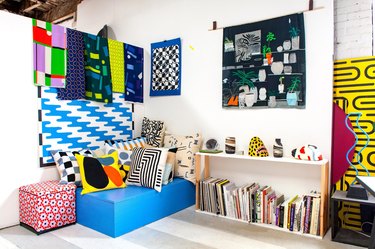 Dusen Dusen's 600-square-foot Brooklyn studio, while not technically a home, is a playground of color with sources of dizzying inspiration packed in every pocket. The repetitious shapes, lines, arches, and squiggles, met with the designer's affinity for pairing primary colors with unexpected hues, should really be listed as a skill on LinkedIn. We want to add more joyful color like this to our living space.