When Peter Stoddard and Ally Lopez say they have a full house, they seriously mean it. With five children, ranging in ages from 7 to 18, they've got seven people living under one roof (eight, if you count the dog). So when searching for a home for their family, they needed the space. The house they landed on, a 1940s post-and-beam in Oceanside, California, is pleasantly deceptive with an unassuming facade that opens up into something closer to a compound.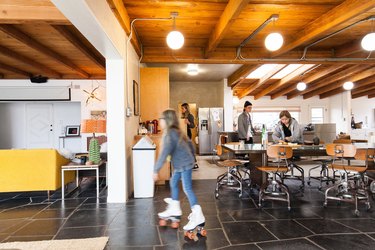 While their spacious residence is ostensibly a family home, the design is more "cool mom," and reflective of Peter and Ally's creative lives: Ally is co-owner of Band of Martians, a fashion showroom, and Peter is the design director at Brixton, a contemporary apparel line. They're also working on a line of children's clothing together.
The house is an eclectic mix of industrial finishings, midcentury furniture, and desert-chic decor. But most importantly, it offers up something for everyone: There's a pool in the back for the kids, a converted garage serves as Peter's motorcycle workshop, and Ally makes use of a poolside studio as an office space.