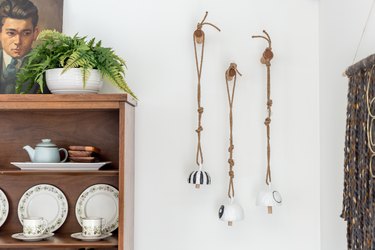 Did you know that you can turn air-dry clay into one-of-a-kind decor? (Of course you did, because you Hunker readers are a clever bunch.) And luckily you don't have to be a full-time clay artist to get the look of those decorative wall bells you've been seeing all over Pinterest this past season. Scroll on to find out how to turn simple air-dry clay into a set of beautiful DIY wall bells — in less than 10 steps.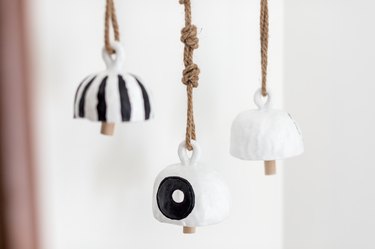 Things You'll Need
4 pounds of air-dry clay

Cut-off wires

Bowl or bucket of water

Sponge

Clay needle tool

Plastic wrap

Trimming tools

Detail paint brush

Acrylic paint

Rope

1-inch dowel rod

Hack saw

Hot glue gun and glue sticks

Hooks or pegs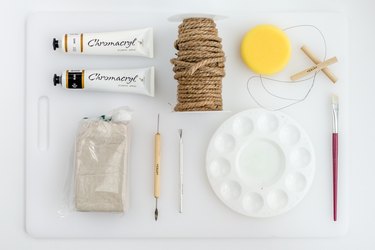 Step 1
Use cut-off wires to slice a 2-pound block of clay in half.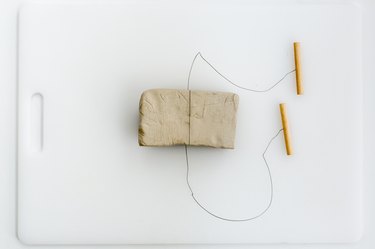 Step 2
Roll the clay block on a solid surface or between your palms to get it into a rounded ball shape. The more you work the clay, the warmer and more pliable it will get, so keep at it until you achieve an evenly round shape. It will get easier as you go!
Step 3
Make a small cavity in the middle of the clay ball with your thumbs, then gently pinch the sides of the clay between your thumbs and fingertips, turning the ball slightly in your hands after each pinch. Work the clay until you have a rough bowl shape, and try to make the pinched walls as even as you can around the form. Keep your hands wet throughout this process to reduce the risk of clay sticking to your hands and coming apart.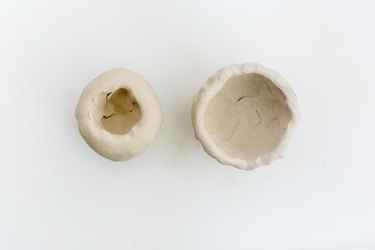 Step 4
Once you have the bowl shape, turn it over onto a flat surface and with wet hands and fingers, or a sponge, smooth the outside of the upturned bowl to finish the bell shape. Then, use a clay needle tool to scratch small hatch marks on top of the clay bell, right in the center.
Grab an extra bit of clay from what you had cut off in Step 1, and roll it into a long thin shape. Gently bend it in the middle to create a loop for your bell. Use the needle tool again to create hatch marks on the underside of the loop, wet the hatched area of the loop with your fingers, and press it gently but firmly over the hatch marks you already made on the bell. Smooth the clay in between the two forms with your fingertips. The hatch marks and water will help the bell and loop adhere tightly to one another as they dry.
Repeat Steps 1 through 4 for however many bells you want to make. We made three for this tutorial — two large bells and one smaller bell.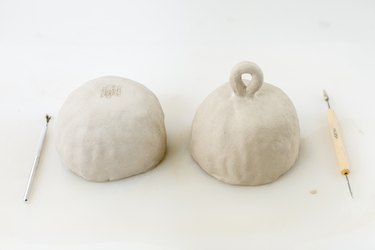 Step 5
Place the finished clay bells on a tray and cover them loosely with plastic. Tuck them away in a warm, dry area, and wait for them to dry before moving on to Step 6. The dry time will depend on the type of clay you use as well as the humidity in your area, but generally, you'll need to give air dry clay about seven to 10 days to dry completely. You can speed up the dry time by removing the plastic after two to three days, but resist the urge to skip plastic entirely since clay can crack if it dries out too quickly.
If you wish to add designs to your bells before they dry out, pull the bells out after about two days, uncover them, and use a needle tool or other clay trimming tool to add chiseled designs to the clay surface.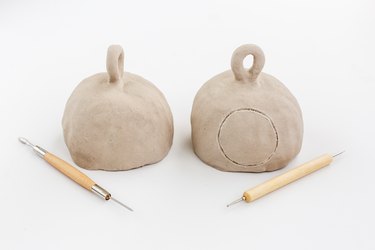 Step 6
Once the clay bells have dried completely, you may paint the surface using a paint brush and acrylic paints in your colors of choice. We used two coats of white paint and some black paint to create a few freehand patterns. Let the paint dry completely after each coat to achieve an even finish.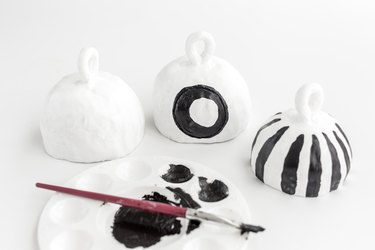 Step 7
Cut a length of rope to about 6 feet in length and pull it through the loop of the first bell. Knot it toward the end, and in several other places throughout the length of rope for added decorative texture. Repeat on each of your clay bells.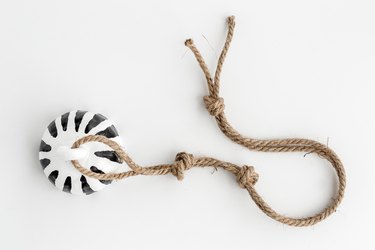 Step 8
To create a decorative clapper for your bell, use a hack saw to cut a 1-inch dowel rod to about 4 inches in length, depending on the depth of your bells. You'll want the rod to extend below the bottom edge of your bell, so make sure to cut it a little long. Then, attach it to the upper inner center of the bell with a hot glue gun. Hold it in place for 60 seconds before letting go to give the glue a chance to dry completely.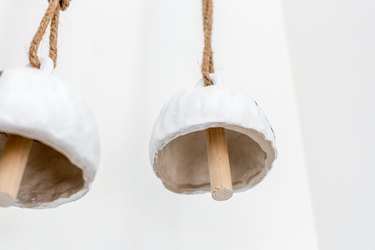 Step 9
Install sturdy hooks or pegs on the wall, and loop the finished clay bells over them to finish the project.