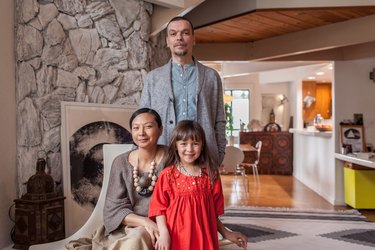 Who: Jo Abellera and Guillaume Wolf
Where: Lake Arrowhead, California
Style: Eclectic Modern Cabin
A little over a year ago, Jo Abellera and Guillaume Wolf decided to pack up and, along with their 6-year-old daughter Margaux, leave the urban sprawl of Los Angeles behind for a quieter life surrounded by nature. The creative couple — Abellera is a fashion designer, macrame artist, and teacher working under the name KKIBO and Wolf is an author and associate professor at ArtCenter College of Design — searched in several spots, including Idyllwild and Big Bear, before finding the perfect home in Lake Arrowhead, a scenic community nestled in the San Bernardino mountains.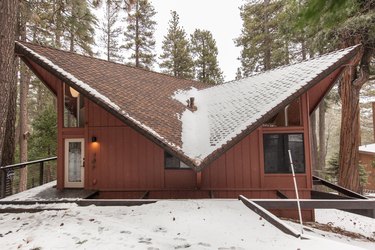 The couple was drawn to an unconventional, 1970s cabin surrounded by pine trees, Douglas firs, and even a few giant sequoias. "We knew it was our house the moment we walked in," says Abellera.
"The house itself has amazing geometry," she explains. "It has really beautiful angles and lines. We especially liked the vaulted ceilings with huge triangular windows that look up into the trees and sky."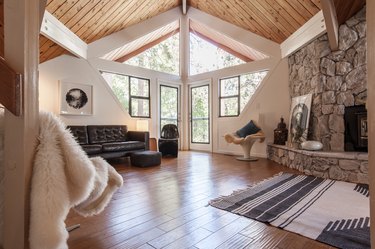 Fortunately, the three-bedroom, three-bath home was in good shape, so they didn't have to deal with a gut renovation. Instead the couple has been focusing on updating it and removing some of the passé design details. "Gold door knobs and locks — gone. Creamy light switches — gone," says Wolf.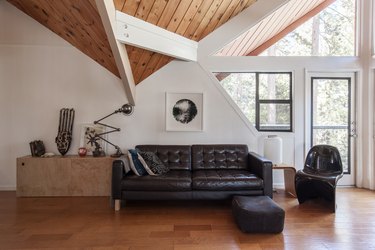 Swapping the existing carpeting for hardwood floors and replacing the light fixtures were non-negotiable updates. "Just those two things alone completely changed the feel of the house and modernized it," admits Abellera.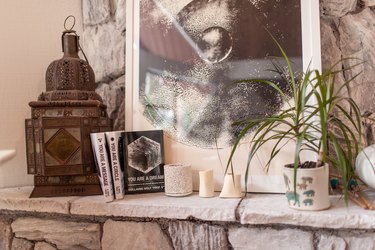 When it came to decorating, the couple didn't buy anything new. Instead they incorporated pieces of Wolf's collection of furniture and decor, which he's collected since he lived in Paris years ago. "I also build my own furniture, which is quite "Arte Povera" because of my limited skills as a craftsman," he jokes. The home is also filled with art and objects the couple has created, along with pieces by fellow artists and designers.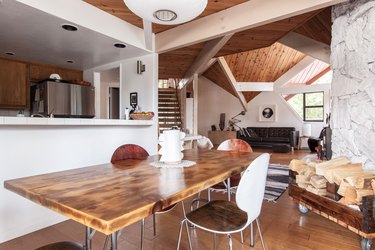 The living room flows into the kitchen and dining room, making the space perfect for easy entertaining.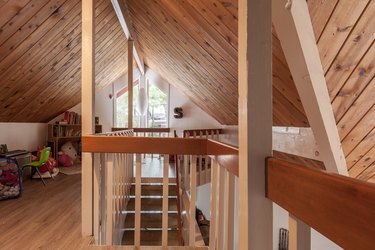 The M-like frame of the home creates interesting angles and nooks, particularly on the second floor. The landing was turned into a play area for Margaux.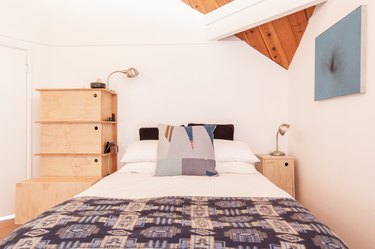 Wolf's favorite spot in the house is the bedroom, where he spends time thinking, reading, and working. "We like waking up to our loud 'neighbors' in the morning — the (peanut-loving) woodpeckers and blue jays — and at night, listening to the howling coyotes," says Abellera.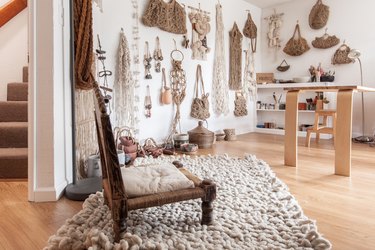 Abellera set up her studio in a space on the bottom floor with views of the surrounding forest.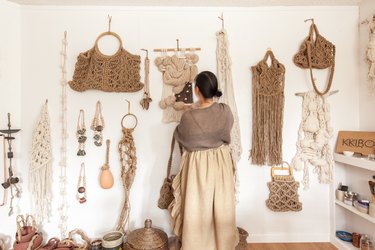 "It's the only room in the house that has a lot of wall space, which is great for making and organizing my work," she says. The space also has a deck where she spends time when the weather gets warmer. "I love that I while I work, Margaux can play in the woods."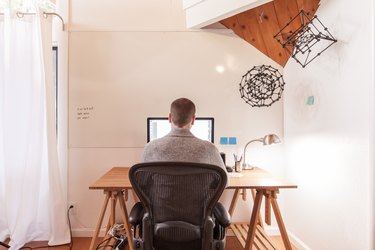 The rural lifestyle has been an easy transition for the family. "Both of our creative practices can function as long as we're connected online," explains Wolf. And while they love spending time hiking and learning about the native trees and plants in their new home, they don't feel totally off-the-grid in their new natural surroundings. "We like that we are not completely isolated either," adds Wolf. "We can still get good salmon sushi and organic produce at our local grocery store on the mountain."
"The house itself has good bones," says Abellera. "We just wanted to honor it."