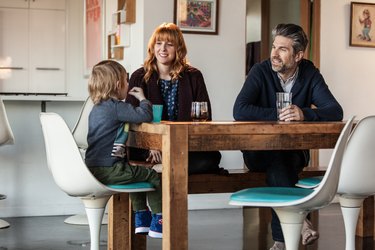 Who: Terryn Westbrook & Jon Button
Where: Eagle Rock, Los Angeles, CA
Style: Midcentury Modern Post and Beam
When the real estate gods deliver a turn-key midcentury post and beam, your job is to imbue it with whatever means the most to you and your family. Such was the case for actress Terryn Westbrook, her husband Jon Button, bass player for The Who, and their now almost 5-year-old son, Kezlowe.
Back in 2010, the tight real estate market in the Echo Park and Silver Lake neighborhoods of Los Angeles drove Westbrook and Button north and east, to Eagle Rock. There, they found a like-minded community of creatives, who favored midcentury aesthetics, mountain views, and starting families.
"Eagle Rock feels like a mellow, sleepy town and it's filled with an incredible community of artists and families," says Westbrook.
If the neighborhood was a fit, so was the house itself — a two-story, four-bedroom, three-bath, post and beam, with very little need for renovation or remodel.
"When we walked in it just felt like our place," says Westbrook. "The view through the floor-to-ceiling windows in the living room makes it feel like you're in a tree house, which I loved. It was also a real selling point for Jon, who is from Alaska, since it makes you feel connected to nature."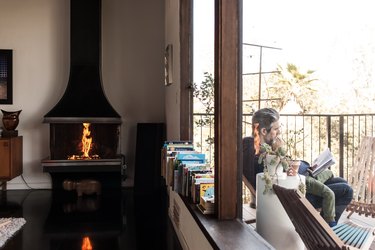 The renovations they did pursue were about preserving the view.
"We wanted the railing on the deck to be safe and not climbable but we also were mindful that the deck is an extension of our living room, and always visible, so we wanted our view to be as unobstructed as possible." They chose custom iron railings made with the thinnest balusters they could find.
Inside, true to the midcentury modern style, the contiguous living space is the heart of the home, says Westbrook. "Everything happens here."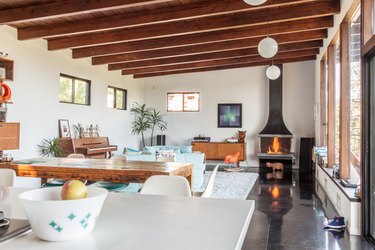 Beyond that, the process was about combining disparate styles in a cohesive way.
"It's sort of 'organized chaos' when our styles collide," explains Westbrook. "My love of collecting stuff adds warmth to his minimalism and his minimalism reigns me in."