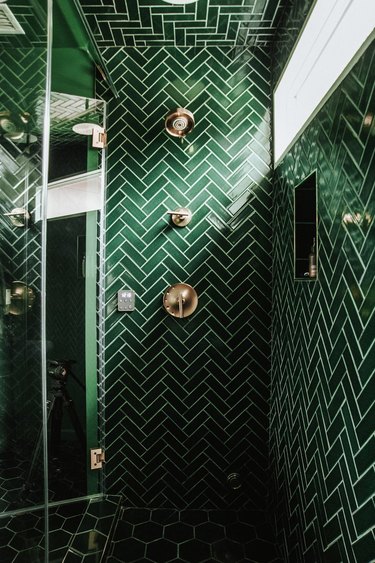 With interior design trends increasingly moving toward an organic feel, elements found in nature seem to be weaving themselves throughout our surroundings, and color palettes are no exception. Homeowners are gravitating more and more toward soothing hues inspired by the outdoors, like blue, gray, and, especially, green.
Since the bathroom tends to be a place of peace and respite, it's no wonder that green has worked its way into the hearts and homes of countless design lovers. In fact, the color is often seen in showers now, transforming a functional corner into a tiny paradise to call your own.
But, there are a few things to consider if you're dreaming of green tile in your shower. First of all, you'll need to ponder which colors to pair it with. If you want to go bold and vibrant, choose an equally bright hue for the rest of your bathroom. Or go with tried-and-true white tile for a more calming, classic ambiance. Be forewarned that since green is a vibrant color, if you chip the tile, the white surface below will be noticeable and sometimes tile isn't the easiest thing in the world to fix.
If you're still longing for a green bathroom, look to these nine showers to get inspired.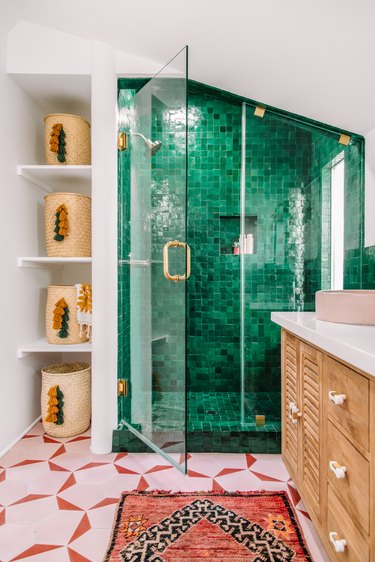 If bright colors are your jam, then we suggest pairing green tile with one or two other bright colors in your bath. For instance, Kelly of Studio DIY partnered her emerald green shower with pink and rust floor tiles, creating a space that feels oh-so-cheerful and kaleidoscopic.
For a feel that can only be described as "Ahhh," Bonnie, Lana, and Erin of Three Birds Renovations chose mint green tile for this shower. We feel at peace just looking at it. Bonus points for the subway tile with white grout placed in a herringbone pattern.
3. Opt for a darker take.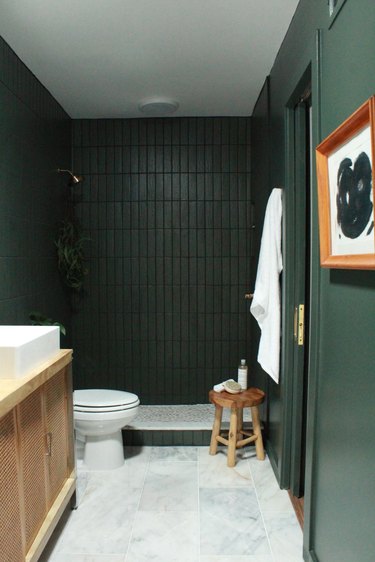 Perhaps you want your bath to take on a moodier tone. In that case, we'll direct you to this dark green shower belonging to Carmeon Hamilton. By pairing a forest green ceramic wall tile in a matte finish, with a white floor tile, the design feels incredibly high-end and not too dark.
4. Boost the organic feel with a view of the great outdoors.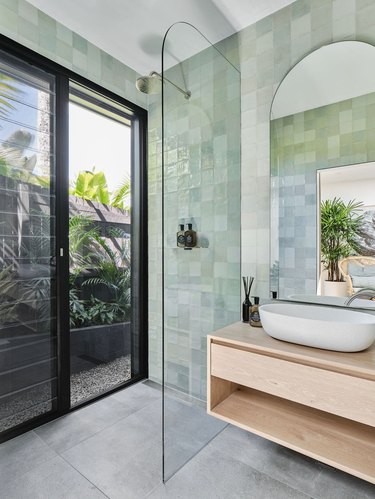 If you're drawn to green tile for your shower, you may want to reinforce those nods to nature with additional touches. For instance, if your budget allows, you could install a window — an approach that's showcased in Australia's Barefoot Bay Villa. If you're digging the beachy look of this design, you could also accomplish it with the help of glass tile in a sea green shade.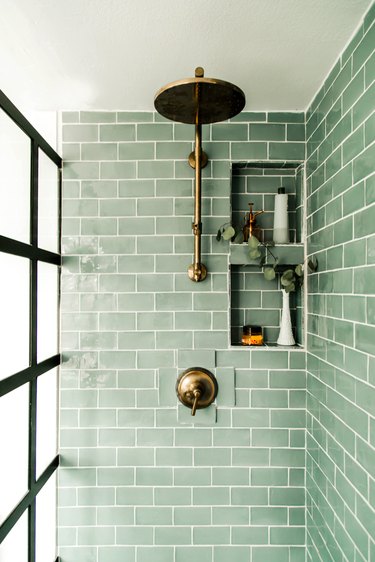 To punch up the green aesthetics of your bathroom design even more, don't forget to include real plants. Victoria of A Subtle Revelry placed a sprig of eucalyptus in a vase in her shower, to complement the pastel green subway tile. Otherwise, you could always bring in a bathroom-friendly potted plant.
6. Use mosaic tile for a vacation-like vibe.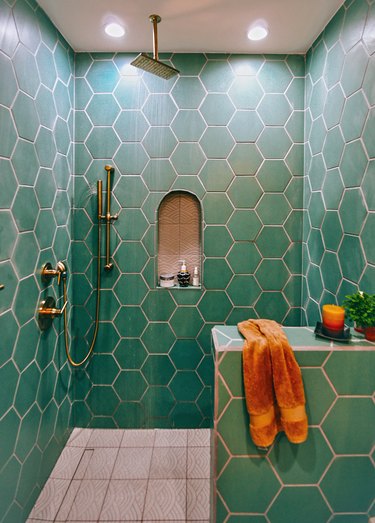 Justina Blakeney has transformed this open shower into an island utopia with the help of hex green wall tile. A boho remodel like this one will make you feel as if you've been transported to a luxe hotel in a far-flung locale.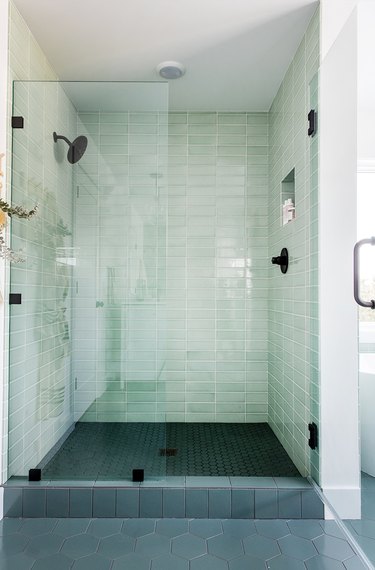 To punctuate the mint green tile in your shower, consider adding a bit of depth with dark-hued accents. For example, in this setup belonging to Megan of Fresh Exchange, the light green tile juxtaposes with black fixtures and a dark green shower floor.
8. Incorporate patterning.
Green can be an opportunity to get playful with the visuals in your shower. One way to go about it is with a herringbone tile pattern in a sage green and white color combo, something that Heather of Inside Her Home perfected in this setup.
9. Really commit to the look.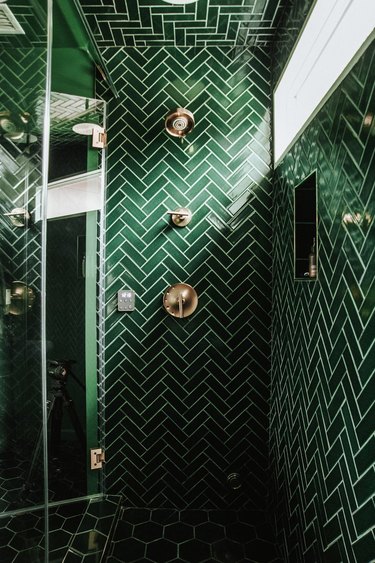 Do you really, truly love green? Then go all in with your green tile shower. Here, you'll want to deck it out in top-to-bottom verdant tile, like this dramatic design from Claire of The Kitchy Kitchen. And to take the idea a bit further, use the same green tile for the ceiling and backsplash, too.