Who: Sandy and Evan Wickham
Where: Normal Heights, San Diego, California
Style: Uncluttered, eclectic modern
There's no place like home. That's one of the main reasons Sandy and Evan Wickham, and their five children, moved back to San Diego, California, in 2017, after a four-year stint in Portland, Oregon. The two high school sweethearts were born and bred in the San Diego area. "True natives," says Evan Wickham. "We love this place."
The other reason, you ask? They came home to plant a church — Park Hill Church, the latest iteration of which is housed near San Diego's Liberty Station, a newly chic mixed-used "urban village" near Point Loma. (Evan is the pastor; they both perform Christian music.) The evangelical church, with its modern music and social justice mandate, is a millennial take on a classic institution — and that's not so different, in spirit, from the home the Wickhams share a short drive further inland.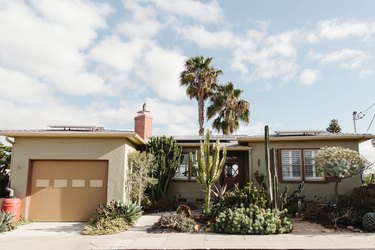 After eyeing the neighborhood for months, in August 2017, the Wickhams found their spot in the formerly blue-collar neighborhood of Normal Heights — charmingly called "Abnormal" Heights by the locals. Normal Heights is now a walkable mid-city neighborhood, with antique stores and coffee houses, and an annual music festival, "Adams Avenue Unplugged" — plus it's one of the most diverse neighborhoods in the city. "We all love this neighborhood," says Sandy Wickham. "It's in the city but also feels like its own little community."
From the street, the home they share looks straight out of the 1950s, but with Southern California-appropriate drought-tolerant landscaping. When you enter, though, you see the difference.
"I love things that are one-of-a-kind," she says. "This home has the charm of a 1950s design. The upstairs dining and deck areas were added in the '70s. Then in the '90s, the entire downstairs space was added as a master bed, bath, and second deck. With three additions over three different decades, this home definitely has its own eclectic character — which we love!"
The additions that the Wickhams personally made can be seen in the kitchen, mainly, where they pursued a mix of DIY and contractor updates. Over the course of a "stretchy" timeline, they put on their "grubbies" and demo-ed the old tile and sink, refurbished the cabinets themselves, and installed the sink and Calacatta quartz countertops. The backsplash, they left to the professionals.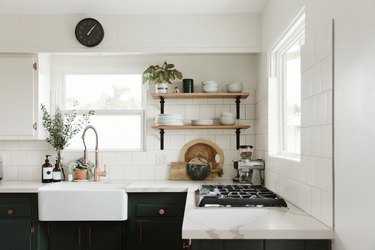 "The DIY parts always take longer than we'd like," she says, "but are cost-effective."

The rest of the home has a comfortable, lightly curated feel, with plants and decor that convey an eclectic sensibility that spans the decades, without feeling at all cluttered.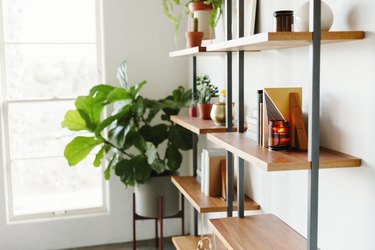 "I am passionate about creating a sense of organized minimalism," she says.
The Wickhams with their five children.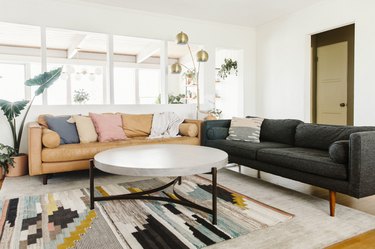 "The house immediately gives off an airy feel because of the big windows in the main room," she says. "So I wanted to stay consistent with that in my decorating. We painted all the walls white and decorated selectively from there."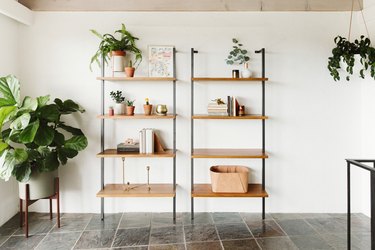 "I make sure every item on display is meaningful to us in some way," she says. Wickham turns to local stores Pigment and Moniker General for design inspiration.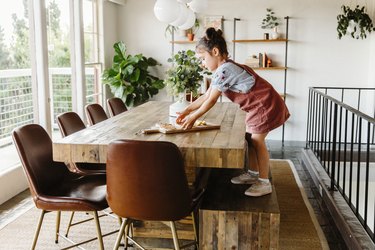 The upstairs dining area was part of an addition that dates back to the '70s. The table, from Living Spaces, seats 12.
"Our dining room is my favorite," she shares. "When we first decided to move to the city, our dream was to have space for hospitality. That's what this room has become. For only being here a year, we've already had so many meaningful moments with friends and family around this table. If food brings people together, then a dining table might be the most important piece of furniture in a home."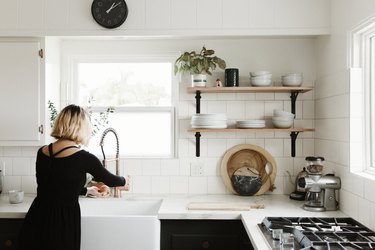 "I love to cook," says Wickham. "As a mother of five, I'm always in there getting creative. As soon as we moved in we started dreaming up possibilities for that space."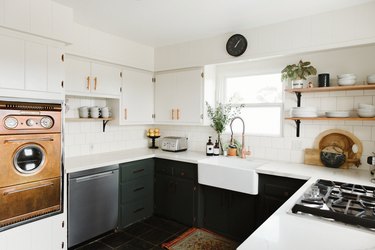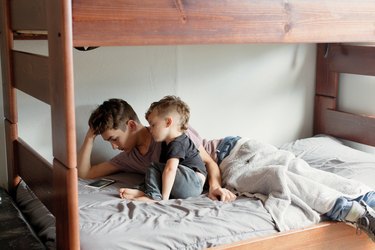 The home has just three bedrooms for themselves and their five children. "I've always liked small homes," says Wickham. "They remind me of grown-up doll houses."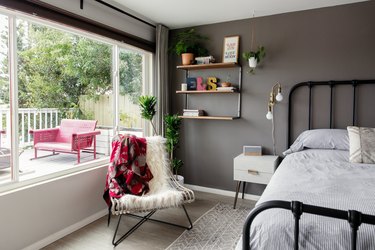 The downstairs master looks out onto a deck, both of which were added in the '90s.
Another deck creates added space for entertaining. "We love hosting our growing community in our 1950s home," she says.