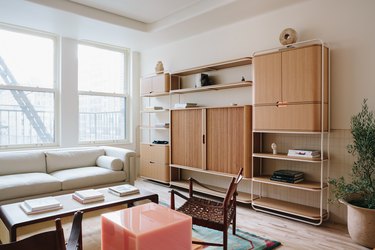 If you're up-to-date on the dining scene in Brooklyn or Los Angeles, chances are you've encountered the work of Home Studios. The Brooklyn–based firm is known for its hospitality designs for restaurants and bars such as Sisters, Fausto, and The Spaniard in New York and Five Leaves and Gwen in L.A, which feature modern aesthetics with vintage-inspired details.
A young family of four looking to overhaul their apartment in New York's NoHo neighborhood was eager to have the firm translate their style into the home. "We were hired even though we hadn't really done a residential project before," says Oliver Haslegrave, founder and principal of Home Studios. "Essentially they trusted our instinct to deliver a truly unique environment."
The 2,000-square-foot apartment had last been renovated in the '80s, so the firm and clients agreed that they needed to start from scratch. Haslegrave wanted to preserve the apartment's open floor plan and the loft-like feel in the living areas and kitchen, while optimizing the available space in the three bedrooms and two bathrooms. The work of Alvar Aalto inspired the curves that appear throughout the apartment from the architecture to the furnishings.
"For this particular project, it was also very important that we incorporate an assortment of vintage, contemporary, and custom work," says the designer. He installed unique copper and oak details throughout the space, including a copper range hood in the kitchen and an oak console in the living room. They chose a neutral but welcoming palette, allowing the natural materials to add warmth to the spaces. All the elements come together into a space that's as eye-catching as one of the firm's hospitality projects, but still livable and family-friendly.