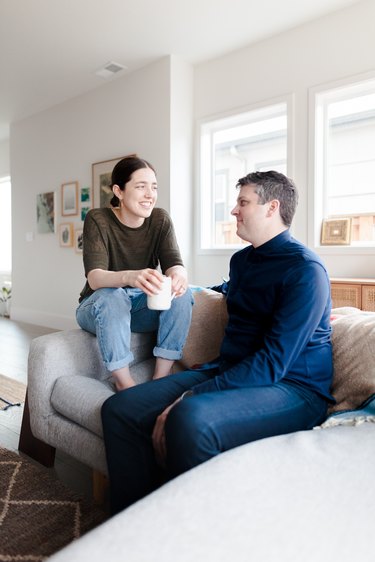 Who: Leah Lavelle and Keith Mokris
Where: Portland, Oregon
Style: Warm and essentialist
There are some homes that instantly share a distinct and earnest point of view, where every piece of decor has been carefully and lovingly selected. Husband and wife Keith Mokris and Leah Lavelle have one of those thoughtful abodes, nestled in the Mount Scott neighborhood of Portland, Oregon.
Mokris works in marketing and Lavelle is the owner of the creative agency Urban Wild Studio, and all of that creative energy is plain to see in their 1,300-square-foot digs. "It's 1,400 including our little garage studio," Lavelle adds.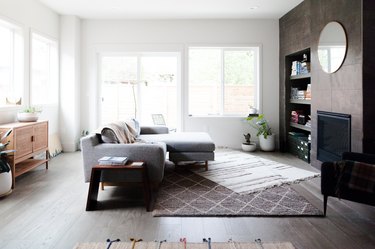 It seems that Lavelle and Mokris have found their perfect neighborhood match in Southeast Portland. She describes the atmosphere around their home as "fun, diverse, accessible, edgy, and full of potential."
The couple moved into the 2018 home nine months ago and enjoy the contemporary elements of the interiors. "We really like a few little details that elevate it and give it character," Lavelle says. "Plus, everything was built with energy efficiency in mind, which was a huge selling point for us."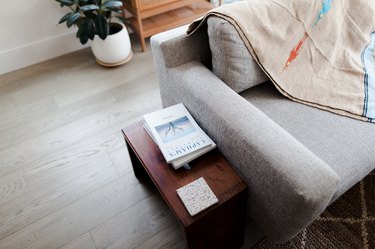 The home was a bit of an unexpected choice for the couple, who had previously cohabitated in a large, old apartment in Chicago and a super small, minimalist dwelling in Portland. Lavelle shares, "Although we weren't initially looking at townhomes, this place charmed us almost instantly. It is set away from the street, so it is private without feeling isolated. It has an eye-catching, handsome modern design. And inside, the space is used very well. It feels larger than it is."
There's a vibe of wrap-yourself-in-a-blanket, kick-off-your-shoes coziness to this home, one that invites family and friends in with open arms. And when they're not watching episodes of The Office or quietly drinking coffee in their living room, Lavelle and Mokris adore filling their pad with people they love.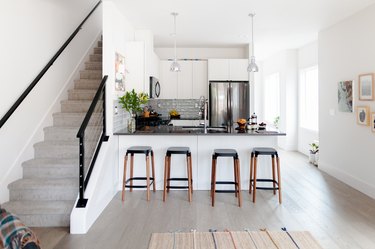 Their stylish abode is outfitted with eight rooms total, "including two bedrooms so that we can host family and guests who come through town," Lavelle says. She communicates an aura of warmth throughout, and describes it saying, "Our place is modern, essentialist, textured, spacious, quiet, and stocked with snacks!"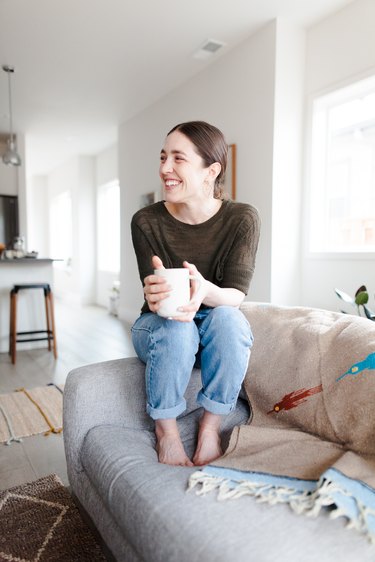 Good energy permeates their dwelling and that's evident in every piece of decor. Swathed in natural light ("We like to make the most of the natural light, so you'll see that our furniture sits low for a better sightline," Lavelle says), many of the pieces were picked up at vintage stores, thrift shops, and yard sales. "We prefer items that have utility and will outlast trends," Lavelle explains.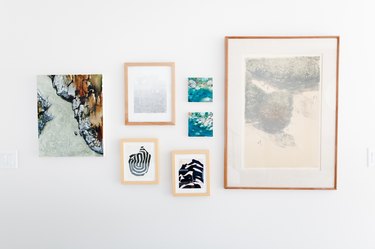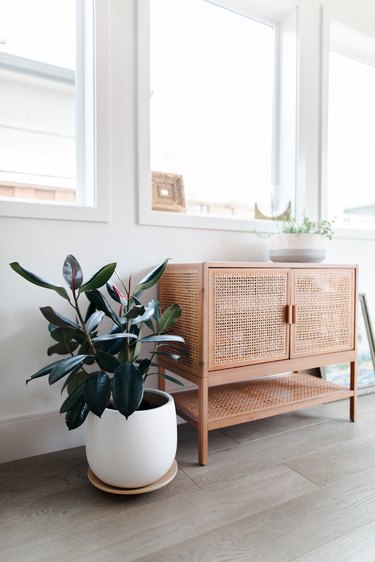 Lavelle and Mokris frequently cruise secondhand destinations around Portland for their decor. "We really like Artifact: Creative Recycle on Division Street," Lavelle says. "They have impressive rotating stock that is always reasonably priced. And we make a circuit of our favorite Goodwill stores regularly."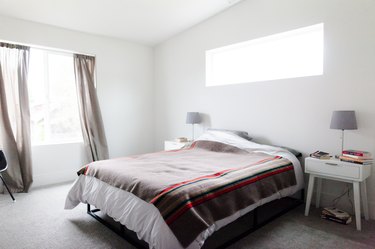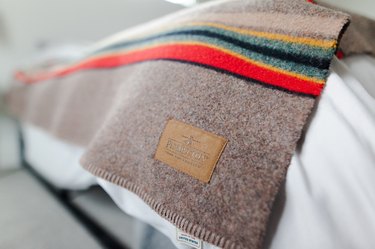 Gravitating toward a modern aesthetic, Lavelle shares that she and her husband have softened their abode with carefully-chosen textiles, plants, "and other details to make it feel warm, tangible, and alive." She adds, "Our style together is a bit midcentury, a bit contemporary, and just a touch bohemian."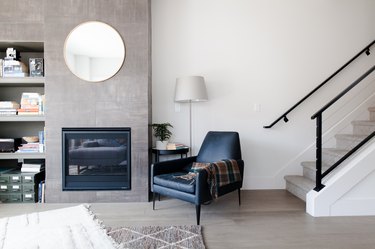 "To me, a home should welcome you in and feel calming and easy — a place to feel both grounded and inspired," Lavelle reflects.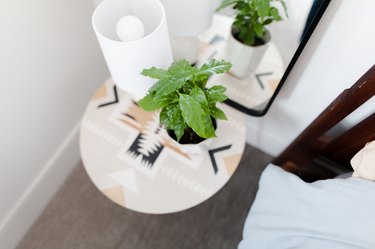 They often host game nights with friends, sprawled out on a living room rug next to the fireplace. Lavelle's parents are from the West Coast and plan to retire within a few hours of Portland, which will undoubtedly mean frequent visits to their daughter's home. Lavelle says she has several family members who don't live too far away.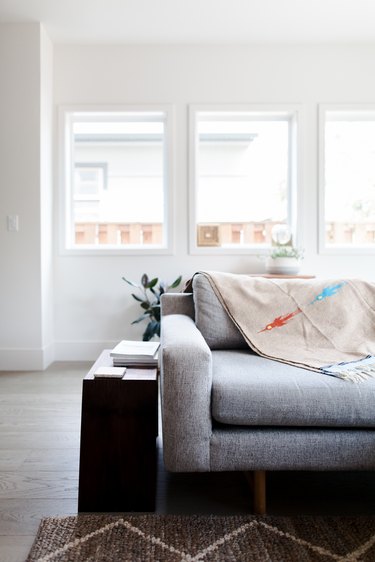 When they have guests in town, Lavelle and Mokris show them around their beloved city, taking in local coffee shops, the International Rose Test Garden, farmers' markets, and roller derby bouts.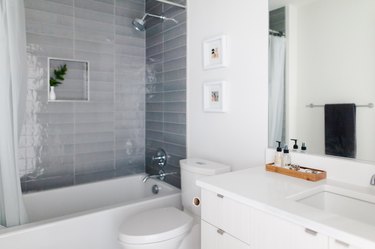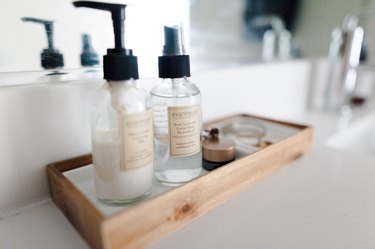 Lavelle strives to bring that openhearted feeling into her home, which she says simply isn't complete without her cherished wool blankets, favorite books, and thriving plants. She believes that their home is a direct reflection of who they are as a couple, saying, "I like to think we're both welcoming, layered, bright, and almost always playing music."
Locals Know Best
Favorite piece of design or architecture in your neighborhood, town, or city: "We really like the bridges in Portland, especially the St. Johns Bridge!"
Best places for thrift store finds, antiques, or flea markets: "Goodwill on Burnside (on the west side of Portland). We also like Artifact on Division and Portland Flea (which currently takes place on the last Sunday of the month)."
Best happy hour: "I don't know this one yet, but I've heard the Society Hotel has a great rooftop bar!"
Best cheap and cheerful restaurant: Nong's Khao Man Gai — "Delicious Thai with just four or five dishes to choose from. Definitely pour yourself some of the ginger tea, too."
Best place to experience art and culture: Downtown Portland — "Just walk the streets and look up for a gallery of murals and street art."
Best coffee shop: "It's hard to choose, but lately we like Carnelian Coffee or Albina Press!"