If your lavatory and bathroom vanity need an upgrade, consider adding a dose of industrial design to the small space. While you may think this aesthetic feels cold and uninviting, it can actually be quite lovely. We recommend starting slowly and adding an industrial bathroom sink (maybe with a little patina) to get the ball rolling. Whether you prefer a basin of stainless steel, wood, or concrete, there is an option out there that'll suit your square footage and your budget. And we can prove it.
Ahead, find six options that may very well become the focal point of your bathroom remodel.
This stainless steel industrial bathroom option from Kingston Brass is an entire vanity and sink combo in one, which is great if you're building your washroom from scratch. The metal basin pairs perfectly with the matte black base to give the whole piece that industrial feel. Top it with a sleek faucet and knobs, and you're all set.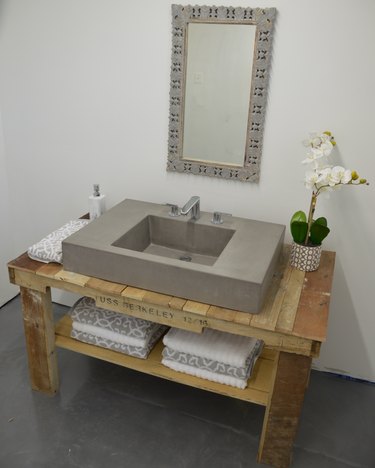 This Hyde Concrete sink quite literally looks like a slab of concrete on your countertop. It's styled on top of a reclaimed wood counter for a more industrial feel. And the metal bathroom faucet completes the look. Mixing materials like this is a great way to fashion your own industrial aesthetic.
What's so cool about this particular sink? The basin is limestone, but it looks like it could be weathered marble or even tarnished metal. Plus, it resembles a high-end piece but is incredibly affordable. We think this very durable vessel would look great on a stone vanity or a wood one for optimal contrast.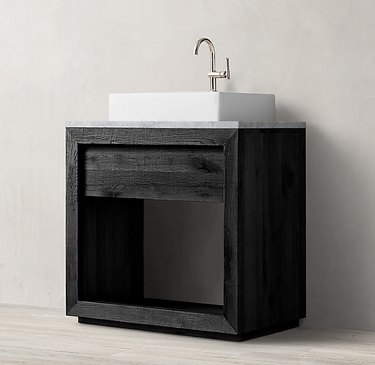 This industrial bathroom sink from RH is fully customizable, so you can make it more or less industrial based on your bathroom decor. The base is made from reclaimed wood, and the basin comes in numerous materials. A plain wood base with a concrete basin would make for a prime industrial look, but we like this slightly modern aesthetic, too.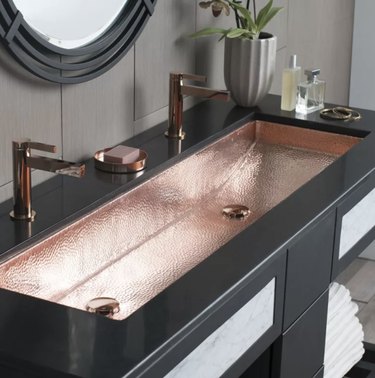 Perfect for a larger washroom, this double sink comes in either copper or nickel. Both options will give your bathroom all the vibes of an old-school warehouse or garage. A fancy warehouse or garage, of course. Dressing things up with an industrial light fixture and statement mirror will complete the look.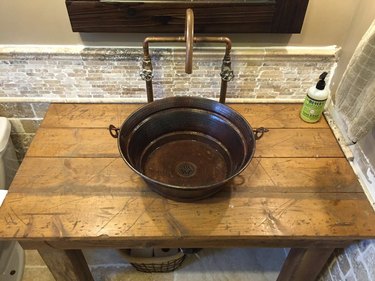 If you're looking for a vintage-style industrial bathroom sink, this is the option for you. The copper bucket basin has a rustic feel; pair it with a wood countertop and an industrial faucet for the perfect combo.