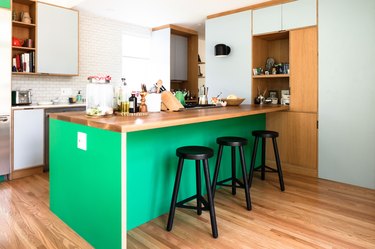 There's a reason midcentury interiors are as relevant today as they were when they first burst onto the scene in the 1930s. Characteristics that made the style so appealing nearly 100 years ago — their clutter-free aesthetic, emphasis on natural light, linear focus, and retro-inspired accents — are just as enduring today. Maybe it's the New Year which is spurring the desire to pare down, but midcentury's clean, timeless, and no-fuss approach to decor just feels right, right now. And what better way to celebrate the classic look than with a midcentury kitchen island? Check out the six cook spaces below to get you started.
1. Add organic shapes.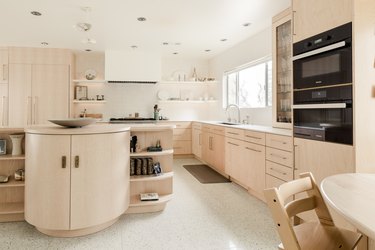 Include a combination of open and closed shelving in your island for dimension and functionality. Here, a rounded cabinet is an unexpected addition that adds visual interest and softness to the minimalist space. The kitchen stays true to midcentury style with a neutral color palette, architectural pendant light, and terrazzo tile floor which infuses a subtle dose of pattern.
2. Consider an oversize peninsula.
Are your kitchen island dreams constrained by space? Don't fear: An oversize peninsula is a practical alternative that offers three sides of workspace and achieves similar functionality without requiring as much square footage. It also effectively separates the kitchen from an adjacent room, like the dining room as seen in this chic cook space by Amber Lewis. Timeless materials including marble countertops, vintage chairs, and white cabinets complete the look.
3. Make your island stand out.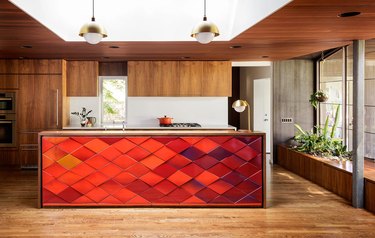 Make your midcentury kitchen island the focal point, and a piece of art in its own right, by covering it with eye-catching tile. When she remodeled a William Fletcher house in Portland, Jessica Helgerson stayed true to the home's midcentury roots while thoughtfully updating it. Various shades of bright red tile not only add a pop of color, but texture and movement as well to punctuate the all-wood backdrop.
4. Opt for plywood.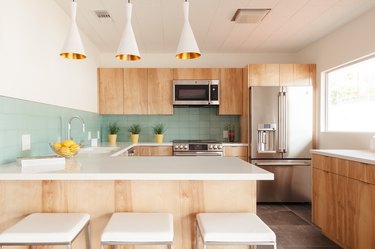 Blending the lines between indoor and outdoor spaces is one of the foundations of midcentury design, making wood an integral material. This streamlined cook space was remodeled as part of a comprehensive home restoration in Palm Springs and features plywood cabinets and a peninsula base for plenty of warmth. Sea foam green tile, a trio of cone-shaped pendant lights, and pops of yellow infuse a playful note.
5. Create contrast.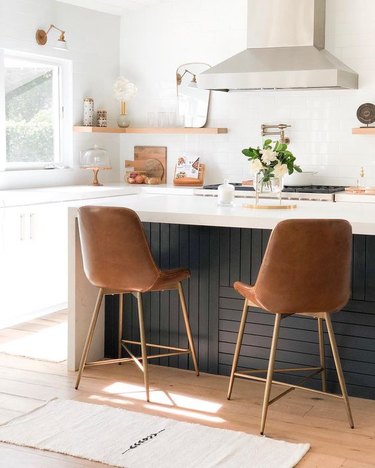 Are you looking for a midcentury kitchen island idea that's equal parts sophisticated and functional? Then look no further than this refined space belonging to Lulu from Dustylu Productions, which includes telltale design elements like expansive, clutter-free countertops, wood accents, clean lines, and plenty of natural light. A high-contrast, black island back panel topped with a waterfall countertop and paired with retro counter stools keep the look elevated.
6. Say "yes" to color.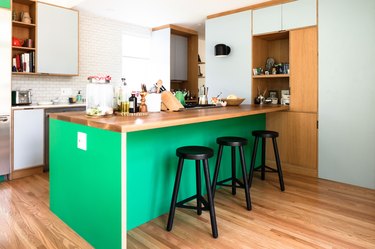 The retro style often incorporates measured doses of color with a touch of whimsy, resulting in don't-take-yourself-too-seriously interiors we dig. Case in point: this color-blocked cookery where a wood-topped kelly green midcentury kitchen island idea takes center stage. The timeless subway tile backsplash, flat front cabinetry, and retro accessories round out the welcoming space.