Sinks are more than just a utilitarian add-on. In fact, they can actually play an important aesthetic role, imparting style and personality into your bathroom. Upon closer investigation, you'll notice that there are seemingly endless sink options to choose from, including integrated, vessel, console, pedestal, wall-mounted, undermount, and drop-in, to name a few.
Drop-in sinks, also known as top-mount or self-rimming, fit securely through a pre-cut hole in the countertop, leaving just the lip or edge of the sink visible (as opposed to undermount sinks when the edge is concealed below the countertop) and resting on the counter. They're affordable and easy to install, making them a cost-effective option; plus the exposed edge facilitates maximum bowl-cleaning. However, the caulking that seals the gap between the sink and the countertop is prone to gunk build-up. They also take up precious counter space, create visual clutter, and don't deliver the clean lines and uninterrupted surface that you get with undermount bathroom sinks. Plus, drop-in sinks don't carry the high-end cache of other options, but instead, tend to be viewed as builder-grade.
On the other hand, drop-in sinks work with the widest variety of countertop styles and materials including fragile tile and thin laminate, since the bowl is supported by both the countertop and hidden reinforcements below. Additionally, the overhanging lip will conceal any irregularities centered around the sink cutout in the countertop.
Intrigued? Scroll on for seven drop-in bathroom sink ideas that are sure to inspire a timeless bathroom makeover.
1. Match your drop-in sink to your countertop.
Work around the unsightly transition from sink to countertop plagued by drop-in sinks by color coordinating the two elements, as seen in this modern bathroom. The all-black palette makes the overall design feel very au courant and cohesive, while the wood details temper the high-gloss finishes and add a dose of rustic charm.
Drop-in sinks are available in a range of shapes, making them an ideal option for awkward angles or tight spaces. The straight lines of this square number along with a single hole faucet make the most of a spatially challenged bathroom vanity, leaving just enough counter space exposed for the bare necessities. A single sconce punctuates the pared-down decor and adds industrial flair.
3. Make your vanity one-of-a-kind.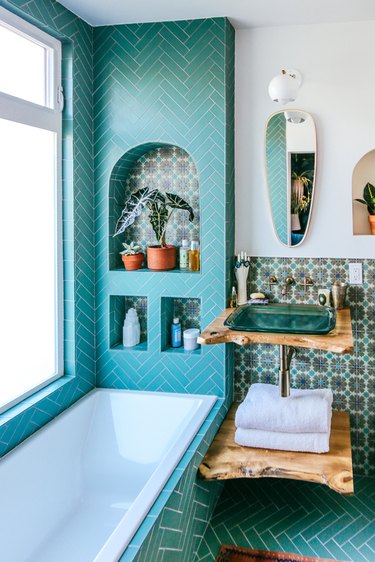 4. Channel the great outdoors.
A widespread faucet and an oval vitreous china drop-in sink are functional additions that make the most of a shallow countertop. Outdoor inspired decor including owl print wallpaper and a wood-inspired tile countertop and backsplash are highlighted by light blue cabinets and antique bronze hardware.
5. Enjoy the best of both worlds.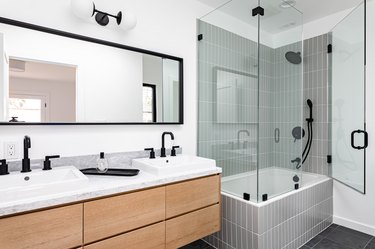 Add depth to a modern space with a pair of rectangular bathroom sinks. This streamlined lavatory enjoys the best of both worlds — the look of a vessel sink with all the benefits and durability of a drop-in — and flaunts clean lines, matte black faucets, and a floating wood cabinet. An oversize rectangular vanity mirror is an eye-catching focal point that complements and anchors the overall design.
6. Opt for a trough sink.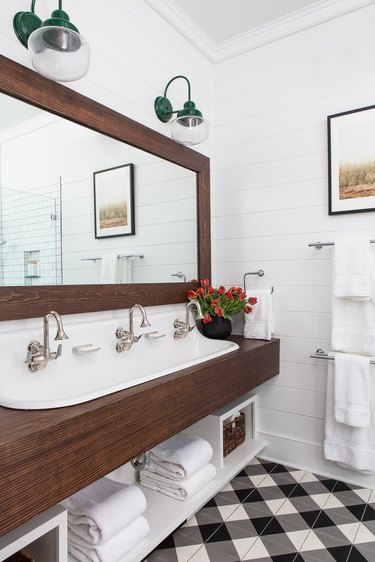 Celebrated for their schoolhouse charm and multiple washing stations, trough sinks are a popular choice in shared bathrooms. A work-around solution to their lack of practical counter space? Take a cue from the folks at Chango & Co. who installed this one in a custom wood vanity, effectively converting it to a drop-in sink with ample storage. A trio of gooseneck bathroom faucets and a pair of green lantern-style sconces enhance the farmhouse vibe.
7. Try a show-stopping finish.