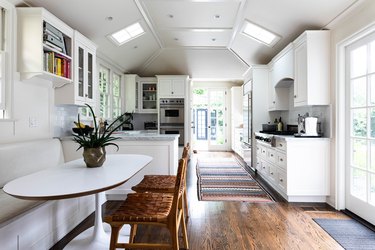 Built-in kitchen seating offers an excellent way to maximize useful space, especially in an unusually shaped kitchen. It's also a great option for a kitchen with a view in an area not already outfitted with countertops, cabinets or appliances. Capitalize on your kitchen's floor plan by adding kitchen bench, banquette or booth seating or by modifying features such as a peninsula or island. The best option for your kitchen really depends on the space itself, so take advantage of the opportunity to come up with a creative built-in seating solution.
The Beauty of Bench Seating
Bench seating in the form of a window seat is a superb choice for a kitchen that overlooks the backyard or a garden. Besides providing plenty of seating space to dine, read or just enjoy the view, a window seat offers the opportunity to add plenty of built-in storage space too.
Craft the window seat to match the style and color of the cabinets in the room. The base of the built-in seat can be a simple box-like structure with a hinged lid. If specific trim or details decorate your kitchen cabinets, you can add similar trim to the front of the window-seat box before painting it for a cohesive look.
For extra space to keep cookbooks within reach, construct the window-seat box with cubby- or bookcase-style holes in the front instead. This could also be an area to stash a throw blanket or the kids' craft supplies or even to display a vintage mixer. Drawers are also an option, although constructing them could be a bit tricky if you are going the complete DIY route.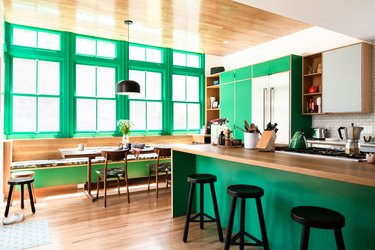 If you are crafting a window seat from scratch, make sure it sits lower than the windowsill — ideally about 21 inches tall or even a few inches shorter, counting the cushion height. A cushion that is 3 to 4 inches thick provides sufficient comfort while sitting or relaxing in the window seat. If you are using the window seat with a dining table that has a few chairs of its own, it's best if the window seat height is similar to the chair-seat height, typically around 19 inches.
The seat should be at least 16 inches deep from front to back if you are using it to sit at a table, but it can be a lot deeper if you are planning to use it like a daybed. No matter how you plan to use the window seat, bolster pillows along its back or even along its sides if the window seat's side areas touch walls or cabinets.
A booth or banquette-style seating is a great way to utilize an awkward alcove in a corner of the kitchen, according to Divine Design + Build. Instead of just stuffing a small dining table and chair set in the area, build booth seats or a kitchen banquette and transform the space into a breakfast nook or an all-purpose area for doing paperwork, eating meals or enjoying a cup of tea.
For a sufficient booth or banquette-type seating arrangement, the bench structure should be at least 24 inches from front to back, which is deep enough to allow for an angled back and a seat large enough on which to comfortably sit, with or without upholstery. Keep that depth in mind when considering how much floor space is needed to build the banquette, especially if you are building an L- or U-shaped seating area.
Booth-style seating is a great choice for a nook or alcove that is deeper than it is wide, as the booth seats can face one another with a rectangular table set lengthwise between the seats. No matter what the layout, the table choice is just as important as the seating. A pedestal-style table with a central support rather than legs at the corners is a must, as corner legs may otherwise get in the way of those attempting to sit at the table.
Although technically not built in, premade banquette seating is also an option. Some furniture retailers such as Ballard Designs offer large banquette sets that look like built-in seats in that they're designed for somewhat-permanent placement in an alcove or corner. These are often sold in two or three pieces for easier handling, and they tend to be quite expensive, running in the high hundreds or low thousands.
A premade banquette is a good idea if it fits neatly in your kitchen space, if you don't want to go the DIY, custom banquette route and if budget isn't a concern. You'll still have to select a table that suits the banquette set, as the table may not be included.
Simple Home Decor Repurposing Projects
Reclaimed benches or church pews, flat-topped storage chests or even solid-wood broom closets may be repurposed into bench-style, built-in seating for an unused area of the kitchen. Many cities have architectural salvage yards and shops or a Habitat for Humanity ReStore location that carries all sorts of used furnishings.
Measure the dedicated kitchen area ahead of time to ensure you have room for whatever furnishings you may find and take a tape measure with you as you shop. If you find suitable options for your kitchen, you may have to arrange to get the item to your home, as many of these types of shops are not staffed to make deliveries.
Going-out-of-business sales are another option, as you may be able to find durable restaurant tables, booth seats or other materials suitable for your built-in kitchen seating area for far less than the cost of similar new goods. These items are often quite durable as well since they're designed for commercial use. Booths with straight backs can be attached to kitchen walls with screws and wall anchors so the booths don't slide around, or the booth bases may include hardware to secure the structure to the floor.
While a kitchen island, built-in breakfast bar or peninsula often has movable bar stools as seats, that doesn't have to be the case. In a large kitchen or a home with an open floor plan, feel free to add built-in seats to the outside or public-facing side of the structure to go along with a freestanding dining table.
Build a box-style bench seat structure as you would for a window seat to fit the front of the island. Add trim and paint it to match the island base so it looks as though the structure was made that way. Add or make your own bench cushions that suit the area's color scheme.
As with window seats, the built-in seating area you construct can have its own storage space inside the box structure. Feel free to store spare bench cushions or table linens inside this bonus storage space.