What's black, white, and chic all over? Your living room will be, for starters.
When it comes to decorating your space, it's only natural that you'd want to deck out the entire room in a clever color combination featuring trendy shades (we're talking about you, millennial pink), or whatever hue the biggest paint companies dub "The Color of the Year." After all, your living room is one of the most trafficked rooms in your house so it should make a statement, right?
But oftentimes, it pays off to nix the bright colors and stick to a classic color palette, such as black and white. The iconic combination can withstand the test of time and offer a clean (yet stylish) backdrop to your life. And to prove our case, here are 10 black-and-white living room ideas that will make your space shine.
Black-and-White Living Room Idea #1: Bits of Black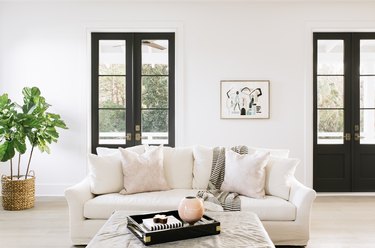 As Cortney Bishop's aptly named "Ebony and Ivory" project proves, a little bit of black can go a long way. The dark French doors and coffee table tray certainly make a statement; however, they don't detract from the room's open and airy aesthetic.
Black-and-White Living Room Idea #2: Somewhere In Time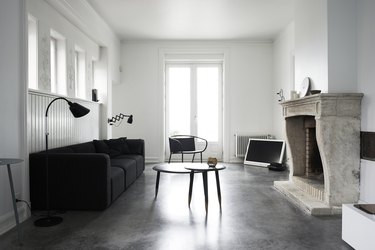 Just because you're working with a limited color palette doesn't mean that your style has to suffer. Truth is, the pared-back combo gives you license to mix and match different interior design genres. A minimalist, modular sofa and stone fireplace may seem like an unlikely duo but in this home photographed by Pia Ulin, they look cohesive, not contradictory.
Black-and-White Living Room Idea #3: Stay Golden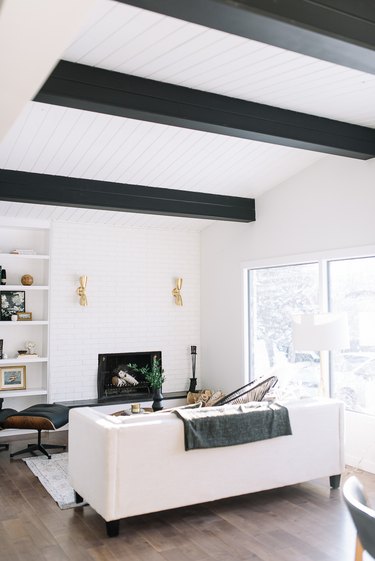 A little glitz never hurt anyone. Take a page out of Kristina Lynne's stylebook and add some thoughtful metallic touches — like wall sconces and picture frames — to your space. Now here's a black-and-white living room idea that screams "understated glamour."
Black-and-White Living Room Idea #4: Shades of Gray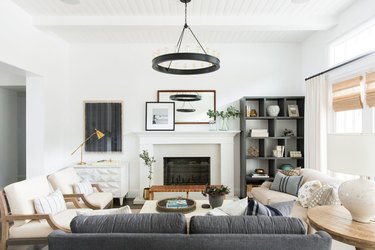 We love a good black-and-white living room idea as much as the next design enthusiast, but we have to admit the color combination runs the risk of appearing, well, sterile. Need a suitable solution? Add varying shades of gray into the mix. Charcoal, dove, and slate — as seen in this living room designed by Shea from Studio McGee — soften the look without diverting away from the main palette.
Black-and-White Living Room Idea #5: Au Naturale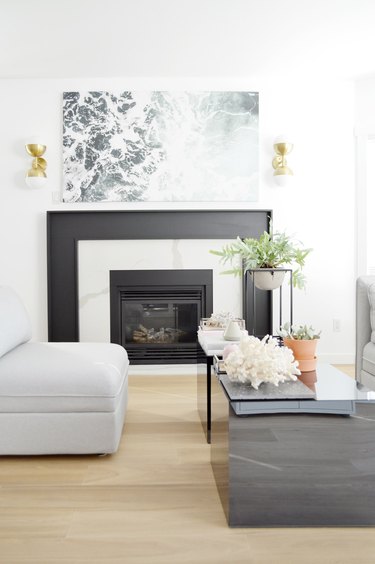 Another way to warm up your black-and-white living room is by incorporating elements from the great outdoors. The seashells, plants, and large-scale print of the ocean that Kristina Steinmetz used in this black-and-white space impart a serene, sanctuary-like feel. Mother Nature would be proud.
Black-and-White Living Room Idea #6: Stick It Into Neutral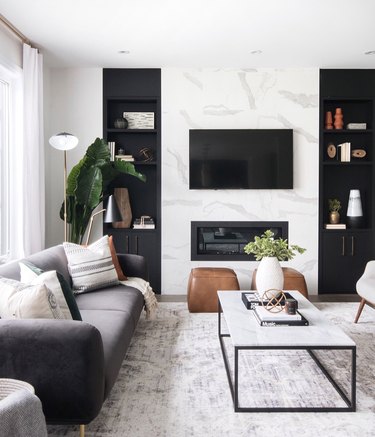 No, not everything in your living room has to be black or white. Here, Canadian firm Leclair Decor deftly used neutral hues to break up the otherwise stark color palette. The well-appointed camel ottomans, wooden chair legs, and other brown accents are designed to work with the black-and-white scheme, not against it.
Black-and-White Living Room Idea #7: Paint It Black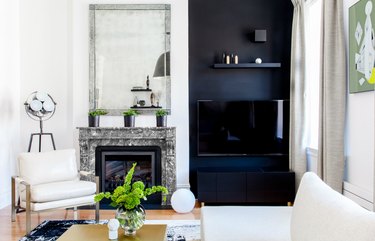 Painting your walls white might be the obvious choice — regardless of your room's color palette — but we encourage you to think outside the paint box. The New Design Project's black accent wall gives this living room a moody, romantic flair — and almost camouflages the flat-screen television. It seems like the Rolling Stones were onto something when they sang, "I want to see it painted black."
Black-and-White Living Room Idea #8: Get Lit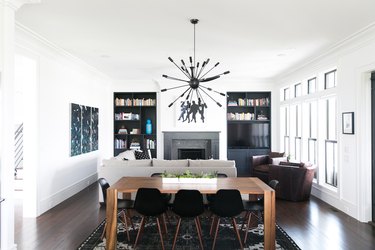 It's no secret that lighting can make or break a room, so it's always a good idea to select a fixture that marries form and function. The starburst style Melissa Lenox used in this living room packs a punch and adds to the cohesive, floor-to-ceiling color story.
Black-and-White Living Room Idea #9: A Pop of Color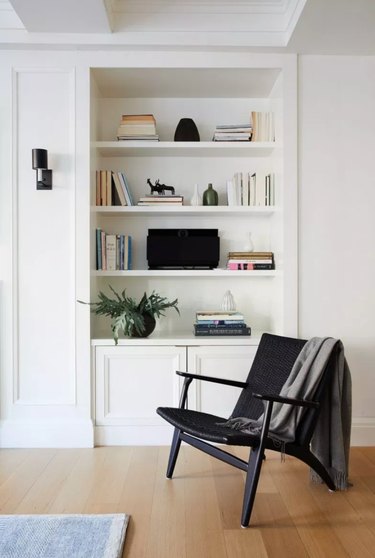 Your living room might feature a black-and-white color palette but that doesn't mean you can't integrate the occasional pop of color. Take this room by Ronen Lev, for example. The light-blue area rug softens the space but doesn't pull your eye away from the black accent chair, wall sconces, and shelf trinkets.
Black-and-White Living Room Idea #10: Pattern Play
Want to give your black-and-white living room some personality? Consider adding a fun pattern to your space. The geometric wallpaper print that designer Kristina Steinmetz splashed onto these walls — above the ebony wainscoting — serves up some retro vibes without feeling, well, campy.