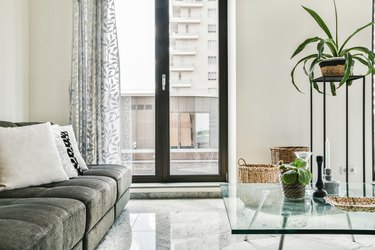 A rise in digital real estate technology has made buying a property online easier than ever. "With today's technology, potential homebuyers have access to digital disclosures, the opportunity to communicate with sellers and realtors virtually, and the option to conduct completely virtual walkthroughs — of both the home and the surrounding neighborhood," says Justin Fichelson, co-founder and CEO of Avenue 8, a mobile-first real estate brokerage.
According to findings from Zillow, 39% of millennials claimed they would be comfortable purchasing a house online, while nearly 60% percent said they would be at least somewhat confident making an offer on a home they toured virtually but not in person.
However, no matter how convenient shopping for a new home online may be, there are still risks involved with buying a property sight unseen. From finding a digital-savvy agent to navigating virtual showings and more, we asked real estate experts to share their tips for purchasing a property online, and this is what they had to say.
1. Find a tech-savvy (and trustworthy) real estate agent.
Fichelson says one of the biggest tips home buyers can take stock of is to find an experienced realtor who is actively embracing technology to make the remote home buying process as streamlined as possible. "The business of real estate has truly adopted a digital and/or hybrid ecosystem in response to the pandemic — there are now technologies that enable realtors to do everything from show a house, to handling disclosures, to completing the signing process completely remotely," he explains.
When comparing real estate agents, Latham Jenkins, a Jackson Hole-based luxury and lifestyle real estate broker recommends doing plenty of online research before selecting one. "Read their Zillow testimonials, Google them, and ask local mortgage lenders for referrals," he advises. "A realtor who is contractually your 'buyer's agent' has a fiduciary duty to act in your best interest, fully disclose all material facts, and provide undivided loyalty and honesty."
2. Make a list of exactly what you're looking for.
Before you begin searching for a property online, Jenkins says creating a list of "must-haves" for your search criteria is key. "I would advise sending your agent your list and asking for feedback," he says. "This process informs them as to what you are looking for as they search for you, and chances are they will know of off-market opportunities you won't see online."
3. Take a detailed virtual tour.
If you're unable to visit a property in person, agent Mihal Gartenberg of Warburg Realty says it's crucial to receive a thorough virtual showing before purchasing. "When viewing a property through a virtual tour, I highly recommend that you ask the person conducting the tour to begin at the door and give you a brief overlay of the home," she says. "As they move from room to room, the first thing they should do is stand in the corner and pan the room and then ask if you would like to see anything up close in the room before walking around."
Gartenberg says it's also a good idea to stop talking and just listen during a tour at times. "That will help you ascertain what the home's noise level is like," she explains. "It's also a good idea to ask the person conducting the tour to share their opinion."
4. Hire a good inspector to assess the property.
Besides a reliable real estate agent, Jenkins says a trustworthy inspector is your next best advocate to make an informed decision from afar. "Have your realtor meet the inspector when the inspection is finished so you can FaceTime/Zoom together while they walk through the house and show you any identified issues or concerns firsthand," he says.
Jenkins says a great inspector will also walk you through the mechanics of the house, describing how the systems work and where they are located. "Ask them if they recommend additional tests or inspections for water quality, mold spore counts, and the HVAC system," he advises.
5. Familiarize yourself with the neighborhood.
Location is every bit as important as a property itself, which is why Fichelson suggests researching the neighborhood as much as possible before buying a home online. "If you're unable to get to the location in person at all, Google Maps is an excellent resource for 'walking' the neighborhood and getting a virtual feeling for where you're headed."
Jenkins also recommends using Google Street View and Google Earth to see what surrounds the home. "Also search for neighborhood Facebook pages or Nextdoor to see what the local residents are discussing," he says.
6. Include a personal note with your offer.
In an active real estate market, Jenkins says making a remote offer can be a disadvantage, especially if you're competing against a buyer who has seen the home in person. "If a seller has to decide between two buyers, a personal letter can make a big difference," he says. "Explain why you have identified this house as the one you love, and demonstrate that you have done your homework, so they see you are invested in and informed about the decision."