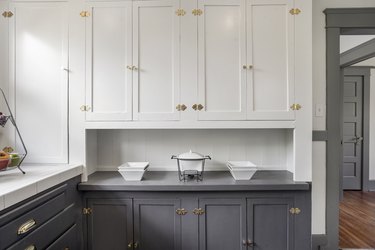 One of the best parts about remodeling your cook space? Finally getting the cabinet design of your dreams. But reality can strike hard when the cost of that dream winds up being well over half of your entire kitchen remodel and home improvement budget. There are ways to save, though, especially if you go with used kitchen cabinets. With good old-fashioned determination, you can find low-cost and even free cupboards that look high-end and don't sacrifice durability.
Before you commit to finding them, let's discuss the pros and cons of taking this approach: First, you'll save lots of money. You're also supporting environmental sustainability because every used cabinet that's purchased and reused is diverted from a landfill. And in some cases, the proceeds from used kitchen cabinets are donated to nonprofits like Habitat For Humanity.
As for the downsides, you have to set realistic expectations about timing and be willing to do some of the work yourself. While you may not get the exact style or custom cabinet material you dreamed of, with a little elbow grease and some serious research you'll end up with cabinets that are new to you without going broke. And, let's face it, you'll earn serious bragging rights.
Top Tips for Buying Used Kitchen Cabinets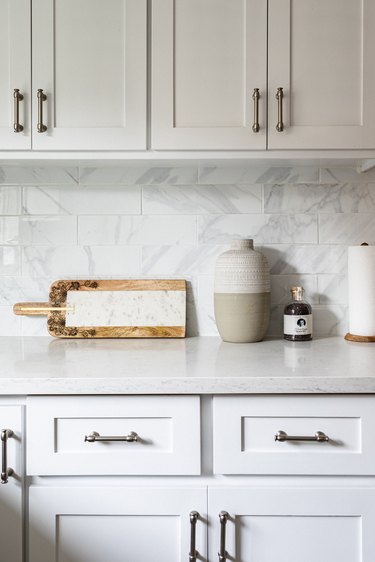 Before you make the final decision about getting secondhand kitchen cabinets instead of new ones, there are some things to consider. As with any element of a kitchen renovation, do research first and prep your plan of action. This will help limit any significant surprises and potentially help preserve your wallet.
1. Consider how much you should really spend.
Homeowners have to be very considerate of the budget when it comes to renovating their cook space. Even without the price of countertops, pullout drawers, and a kitchen island, new cabinets can cost anywhere from $2,500 to $24,000 depending on whether they're semi-custom or pre-made. However, if you go the used route, you can cut expenses down to a few hundred dollars tops. You can even find free cabinets in some cases if someone is demoing a house or redoing a store display.
2. Measure at least two to three times.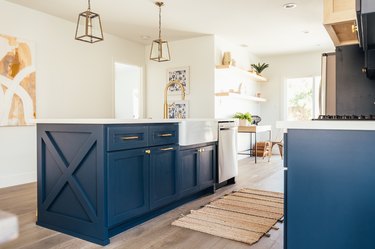 Before you go searching for used kitchen cabinetry, it's best to lock down what you really need and what size will work best. So, when it comes to any DIY remodel, measuring (and measuring again) is essential. Sure, you can adjust some cabinet doors to fit where you need them, but this typically adds a lot more labor and headache. Remember, you typically can't return used cabinets if they don't fit.
3. Look for creative places to buy used cabinets.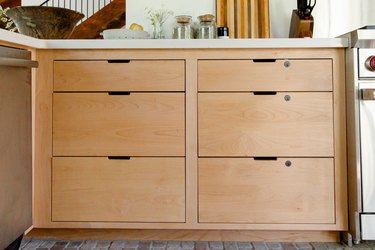 Want to know where to buy them? Places like eBay, Facebook Marketplace, and Craigslist are great for hunting down used cabinets. Be sure to check kitchen retailers in your area, too. They often sell the older displays at a super low price (you may get a counter thrown in, too), so you could wind up with a lightly used, built-in set. Also, research local contractors to see if they are currently tossing out old base kitchen cabinets. Share on social media that you're on a mission to remodel by upcycling materials. And always find local architectural salvage businesses to explore. There may be some hidden treasures where you least expect.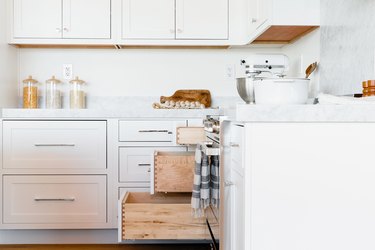 Just because you're saving money doesn't mean you have to settle for less. That means you need to check for flaws. And if you find used kitchen cabinets made of hardwood, make sure there's little to no warping or rot. Also, be on the lookout for any major stains that will be hard to sand off or paint over. Ideally, you want to get an entire set of used cabinets to make the installation seamless instead of mixing and matching from multiple sources.
5. Be aware of how much time and labor you exert.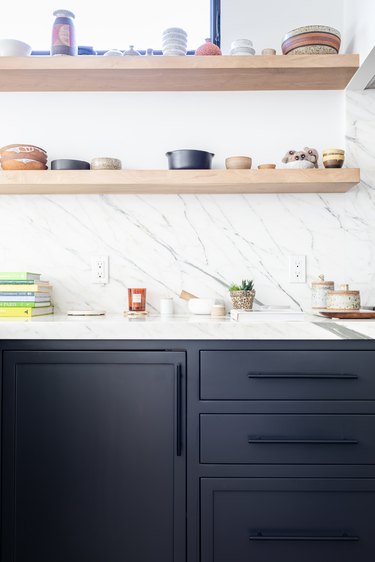 You're likely going with used kitchen cabinets to save money. So please keep this top of mind when looking. If the amount of work it takes to get them to your house, repair, and install them is too great, explore cheaper, new cabinet options. It comes down to personal preference, but many people start off excited about finding used cabinets and wind up stuck with labor and extra costs.
6. Pay attention to materials.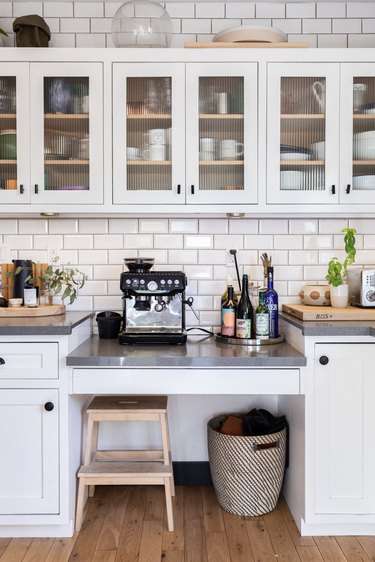 Hardwoods, plywood, particle board, laminate, and wood veneer are all good options when you're looking for used cabinets. However, any material that's not solid wood may show more signs of wear and even sagging in the case of softer materials like particle board or laminate. So you'll want to carefully examine the options to make sure your set has the least amount of damage.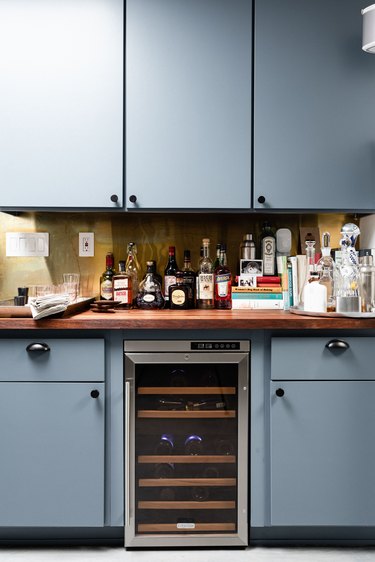 Because most used kitchen cabinets already come painted or stained, you will have to put in some hard work to sand them down and prep for a new coat. The good news is if prepped correctly, recycled cabinets will take paint just like new ones. Plus, a few good coats of fresh color will help hide any flaws.
8. Don't be scared to refinish.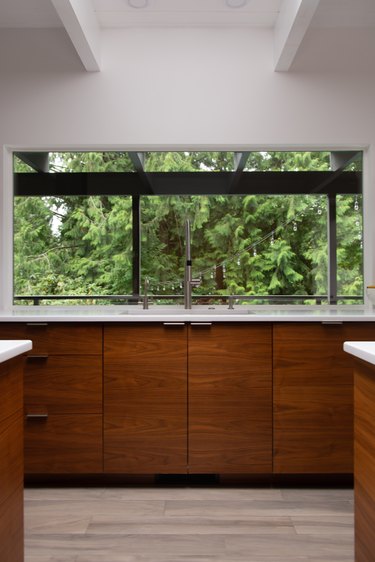 If you're feeling ambitious and just want a natural look, used cabinets made of wood can be refinished. Again, it will take dedication to sand down any imperfections, so try to find cabinets that are in somewhat good condition. The better the wood, the easier it will be to resurface and apply stain.
9. Carefully consider shortcuts.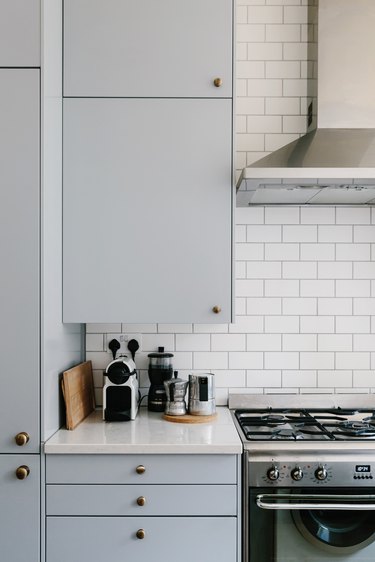 If you're not into putting all of your hope and energy into finding the perfect set of used cabinets, consider doing a hybrid approach and finding pre-made frames. Then add recycled door fronts. Alternatively, just go the secondhand approach for one portion of the kitchen. Sometimes a stand-alone, farmhouse-style cabinet can add a personal touch without feeling too rustic. Going this route will take the pressure off of all that searching.
10. Ask yourself if it's worth the effort.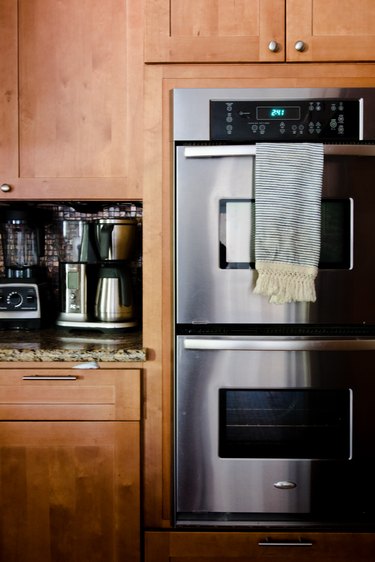 Finding and installing used kitchen cabinets takes patience and perseverance. You may not get what you're looking for right away, but with time you can find a set that's truly spectacular. If you like doing research and a few DIYs, secondhand kitchen cabinets are very worth the elbow grease.