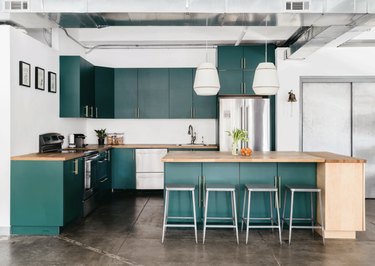 Nothing ruins the look of a kitchen more than outdated cabinets. Fortunately, with the right upgrades, you can revamp even the most old-fashioned of kitchen cabinets with minimal effort — and moolah. Don't believe us? We reached out to a few of our interior designer friends for advice about easy ways to update kitchen cabinets, and here's what they had to share.
1. Add a fresh coat of paint.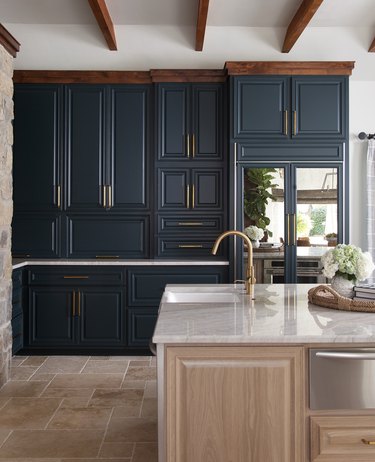 Never underestimate the power of freshly painted cabinets in an outdated kitchen. "We recommend using deep blue, teal, green, or a gray color if you really want to modernize your kitchen, because all white kitchens are going out of style and bold colors are the new 'it' look," explains Sara Barney of BANDD DESIGN. "Also, use an eggshell or satin paint so that the paint won't wear over time, since kitchen cabinets are a high traffic area."
2. Apply peel-and-stick wallpaper to the inside of your cabinets.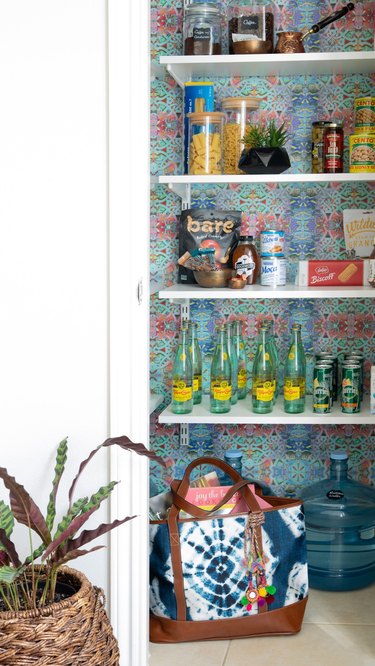 "I love transforming outdated or ho-hum kitchen cabinets with peel-and-stick wallpaper," says Emily Spanos of Emily June Designs. "Easy to install over a weekend and available in countless patterns and color combinations, it provides an immediate refresh wherever it's applied! I generally recommend selecting a peel and stick wallpaper that complements colors present in your counters, backsplash, or cabinet paint so that your fresh new look feels at home within the overarching design."
3. Swap out your old hardware with something modern.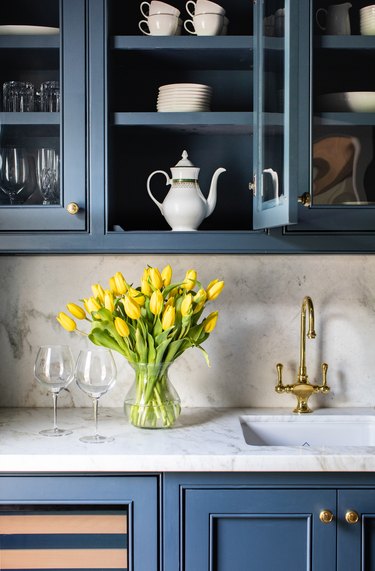 Marie Flanigan says that one of the simplest ways to update your kitchen cabinets is with new hardware. "Consider hardware in a timeless finish, like unlacquered brass, and a modern shape," she advises. "Measure carefully to ensure you won't need to drill additional holes in your cabinetry when your fresh hardware arrives."
4. Paint your upper and lower cabinets different colors.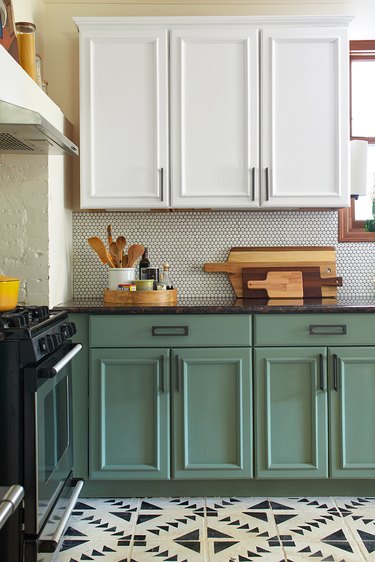 If you're looking for a colorful way to create a contemporary contrast in your kitchen, Jessica Davis of Atelier Davis suggests painting your lower cabinets in a different color than your upper ones (some call this "tuxedo cabinets"). "To offset white upper cabinets, use a colorful shade on the lower cabinets, but use the same hardware to create consistency," she explains.
5. Incorporate interesting hardware materials.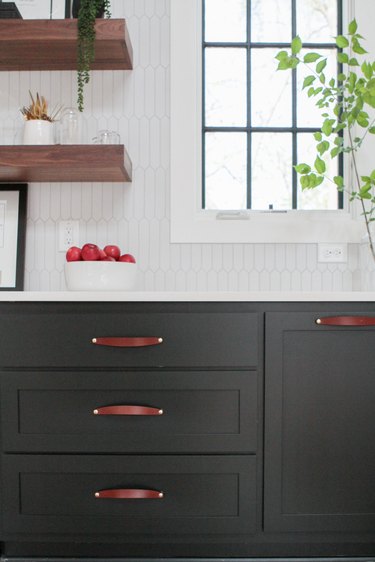 According to Lori Paranjape of Mrs. Paranjape Design + Interiors, using an unconventional hardware material, like leather, can bring character to even the simplest cabinet fronts. "This black kitchen leveled-up when we added leather straps with brass tacks. Instant upgrade!"
6. Try matte black hardware.
A little matte black goes a long way in a monochrome kitchen. "If you have white cabinets with polished chrome or satin nickel hardware, swap them out for matte black for added contrast and depth," says Kate Lester of Kate Lester Interiors. "Mixing metals is okay, and often makes everything look more interesting!"
7. Install cabinet lights.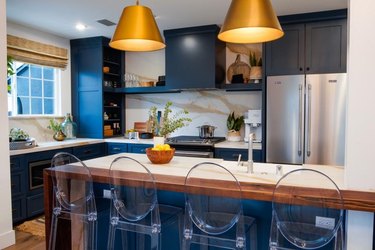 Breegan Jane says adding lighting to your kitchen cabinets is a goof-proof way to elevate the design. "Consider adding under-cabinet lighting, such as LED light strips, or even lighting on the top for a dramatic touch," she says. "Cabinet lights are easy to source and install!"
8. Apply peel-and-stick cabinet facades.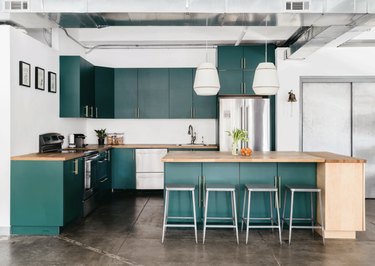 No time for a paint project? Allison Petty of Hyphen & Co. suggests employing peel-and-stick covers to your kitchen cabinets. "If you have flat-front cabinets you can use peel-and-stick cabinet fronts, like these from PANYL, to add a splash of color to your space," she says. "Update the hardware to make your kitchen feel truly custom."