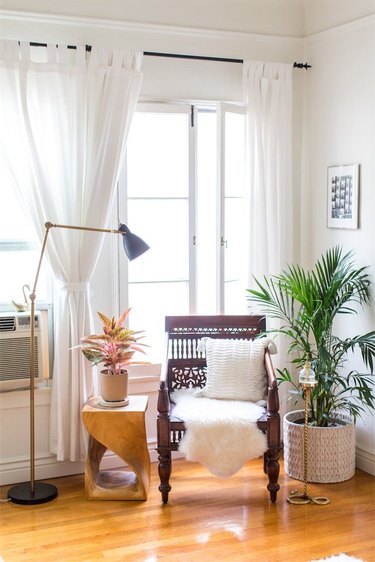 While home ownership is a goal for many of us, it's only a reality for some of us. This fact of life can sometimes make renters feel left out when it comes to bigger home renovation projects, like installing new countertops or adding a walk-in shower. Alas, there are still lots of ways that you can make your temporary digs feel like a more permanent home. Here are eight creative, budget-friendly, and most importantly, transitory suggestions for decorating a space that you and your landlord will love.
1. Rugs, rugs, and more rugs.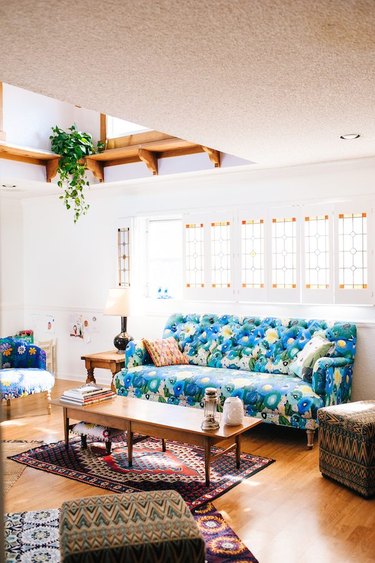 When living in a rental, you are pretty much stuck with the floors you've got. That's why it can be worth it to invest in a rug that makes you happy and adds color to the room (as well as covers up anything you don't want to see). We just love the way Andrea Duclo from Oh Dear Drea incorporated multiple area rugs into her bright bohemian abode.
2. Add a faux tile backsplash.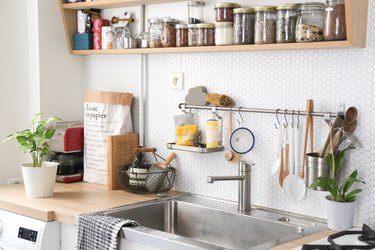 Rental kitchens can be especially frustrating because there are so many big items that you have no control over: the stove, the fridge, the dishwasher, and even the sink. But you can zhuzh things up with a faux tile backsplash like Axel and Deborah from ADC did in this charming kitchen. Using a peel-and-stick hexagonal mosaic tile they transformed this rental from drab to fab.
3. Create a gallery wall with printables.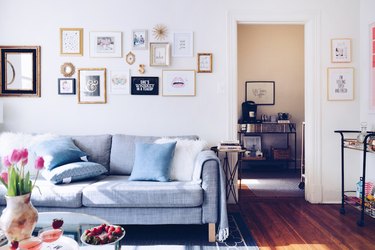 Painting can be a pain, especially when you have to paint all over again when you move out — and that's if you're even allowed to change the wall color at all. An easier, and less expensive, way to put some personality into your rental is with a gallery wall. Consider mixing things up with photos and printables like Sarah from DC to a "T" did in her new apartment. You can usually find some great free options on Pinterest.
4. Two words: spray paint.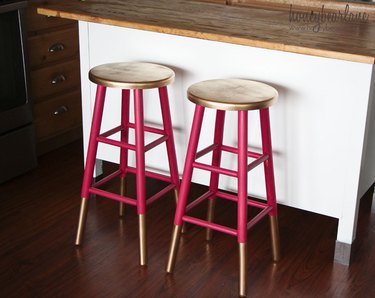 When it comes to painting your walls you might feel limited with your color options — but not with your furniture. A few coats of spray paint can make you feel like you just went on a home decor shopping spree. Consider this DIY from Heidi over at Honeybear Lane in which a pair of simple barstools got a colorful makeover.
5. Buy inexpensive art — and then make it your own.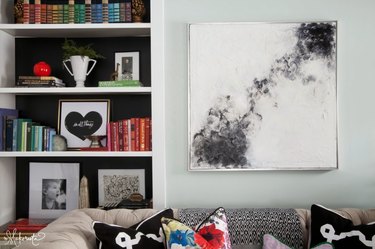 If gallery walls are not your style, then try this clever idea from Gwen over at The Makerista. Start by buying a not-so-attractive painting from a thrift shop — ideally one with some texture on its canvas — and paint over it with one or two colors of your choosing. Voila, now you have original artwork hanging in your house!
6. Upgrade your cabinet hardware.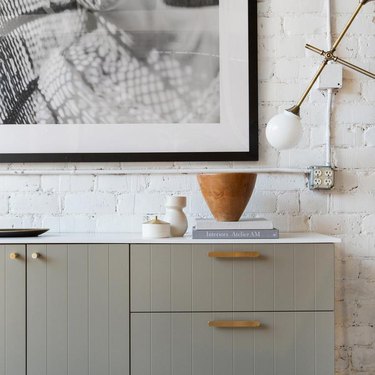 When a full kitchen renovation is out of the question, consider adding some personality by glamming up your cabinet hardware. Park Studio LA and Sarah Sherman Samuel partnered up to design these chic brass knobs and pulls ( starting at $12 ).
7. Add color to your cabinets with contact paper.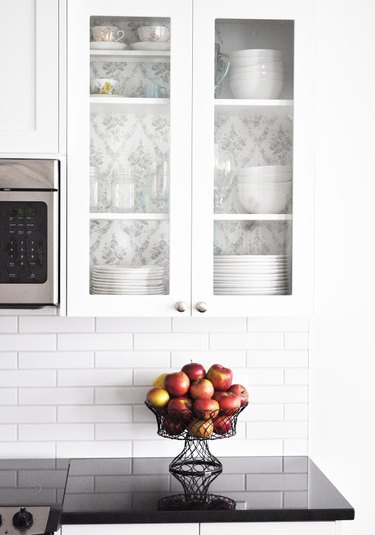 Add a pop of color to kitchen cabinets and open-shelving units with some bright contact paper. It works the same way as wallpaper, but it's a lot easier to remove (and much easier on your wallet).
8. Replace basic blinds with something a little snazzier.
Replace those basic vertical blinds with something a little fancier. There are a variety of different options to choose from, but we love the look of these relaxed Roman shades that Brady over at Style by Emily Henderson installed in his bedroom. And if you live on the first floor and desire more privacy, opt for this super-easy DIY lace window treatment from Annabel Vita.