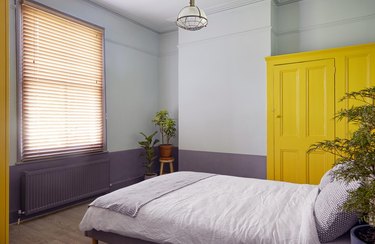 When designer and architect Sharon Toong, founder of the firm House of Sylphina, began work on a two-bedroom apartment in a Victorian building in the hip Stoke Newington area of North London, she couldn't just ask the residents what they wanted. That's because there weren't any residents — at least not yet. The property was being refurbished as a rental apartment for young professionals, and Toong was brought on to add some personality to the flat and make it more attractive to potential tenants.
The first priority was reconfiguring the tiny kitchen and bathroom. The boiler was moved into the hallway, making room for a full-size refrigerator and freezer and a tall storage unit. To keep within the project's modest budget, Toong relied on paint to bring character to the apartment and chose to use laminate flooring throughout. Her main splurge was the patterned floor tiles in the bathroom and kitchen. The finished project is filled with striking design details that are sure to attract a stylish tenant.
---
Elizabeth Stamp is a freelance writer in Los Angeles. Her work has appeared in Architectural Digest, Elle Decor, and CNN Style.