As the heart of a home, kitchens see no shortage of activity — from entertaining to meal prep to impromptu homework stations. They have evolved from purely functional rooms to more of a central hub, so it's easy to assume that bigger equals better. However, you might be surprised to learn that mini kitchens, or kitchenettes, can be just as efficient and beautiful.
A kitchenette is essentially a scaled-down cook space, equipped with some (but not all) of the basics that you'd find in a standard kitchen. One of the biggest differences between kitchenettes and their full-size counterparts is the appliances — compact kitchens are too small for full-size appliances and require smaller versions. Standard culinary setups almost always include an oven, a stove, a dishwasher, a refrigerator with freezer, a sink or two, and many other small electric gadgets like a coffee maker. Kitchenettes, on the other hand, have space for just the essentials (think: mini fridge, a hot plate or a compact stove, and a small sink), and a few multitasking basics such as an Instant Pot and toaster oven.
So, just how small are kitchenettes? While there isn't a definitive size that qualifies as a kitchenette, in general, they're less than 45 square feet and are located in corners of a larger living space, not as a standalone room. Due to their lack of storage and counter space, kitchenettes require ruthless and continuous editing.
Kitchenette and Kitchen Pros and Cons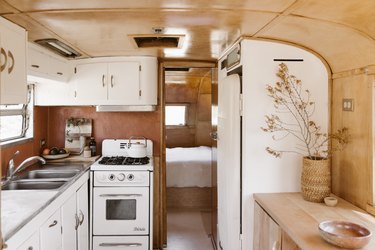 Kitchenettes are flexible, making them ideal for converted garages and attics, in-law units, and homes that are short on floor space like studio apartments and cabins.
If you long to remodel or upgrade a kitchenette, it's a far less costly endeavor since smaller appliances are more affordable.
You'll also spend less time cleaning and maintaining a kitchenette.
If you're a gourmet chef, a kitchenette with its limited appliances and lack of prep space makes involved cooking a challenge.
Due to the lack of space, you'll need to be selective about what gadgets, appliances, and tools you include.

Small kitchens aren't able to function as a family or entertaining gathering spot.
Full kitchens are able to support all of the culinary bells and whistles.
For the bona fide host, it's hard to beat a spacious kitchen.
The ample counter space and storage options make meal prep and organization a breeze.
Full-size kitchens require ongoing upkeep, including annual appliance and countertop maintenance and paint touch-ups.
If you don't do a lot of cooking and entertaining, standard kitchens can be a waste of space.
Daily cleaning can feel like a full-time job.
1. Blanket your space in white.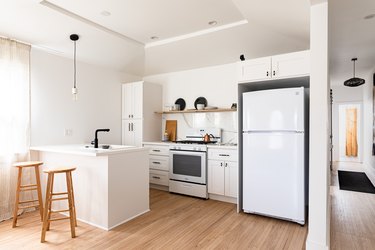 A coat of white paint and crisp white appliances look clean and give the illusion of more space, which is always a boon, but particularly so when dealing with a confined kitchen. Thoughtful details in this kitchenette, including a marble backsplash, decorative hardware, and wood accents, elevate the overall look.
2. Make the most of the space you have.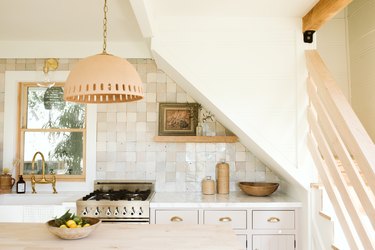 Awkward corners and nooks become welcome opportunities for out-of-the-box spatial planning in pint-sized kitchens. In this refined kitchenette at the Bodega House, a pitched ceiling functions as a focal point that adds depth and interest and is the perfect intersection for hanging a wooden picture ledge. Pastel zellige tile, a one-of-a-kind terra cotta pendant light, and gold hardware are unique details that personalize the space.
Under counter storage is at a premium in kitchenettes and traditional cabinets can overwhelm small spaces, making them feel heavy and enclosed. Take note from Sarah Sherman Samuel and install open shelving — it's easy to customize and can be fashioned from a range of materials. We're partial to the light wood she chose for her former Palm Springs abode, resulting in an earthy yet modern sensibility. Exposed bulb sconces punctuate an all-white wall and are a fresh take on quintessential industrial style.
4. Employ a singular material.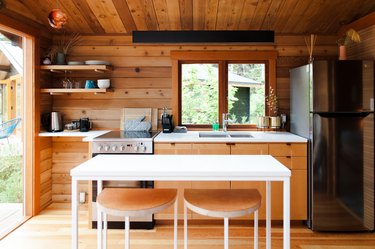 Create continuity and a cohesive look by repeating a singular material throughout a kitchenette. Reclaimed wood on the walls, floors, and ceiling, along with plywood cabinets, anchor this rustic kitchenette, imparting warmth and texture without visual distraction. Stainless steel appliances and a white countertop invite a modern vibe.
5. Include all the basics.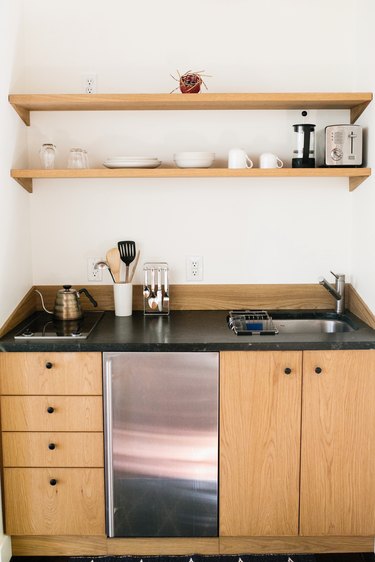 Sink? Check. Small fridge? Check. Stovetop? Check. A workhorse kitchenette like this one is further proof that all of the necessities can be included in a small space. Keep the look simple with stainless steel appliances, wood cabinets, and a granite countertop. White dishes and a handful of oft-utilized utensils are at the ready.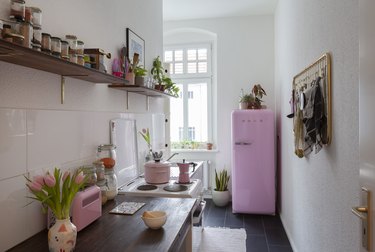 Functionality reigns supreme in a small cook space, but you can inject personality and style by selecting colorful appliances, like the hot pink retro-inspired SMEG refrigerator and toaster seen in this galley-style kitchenette. Brass shelf brackets and an ingenious wall-mounted pot rack save space and introduce a glamorous touch.
7. Tap into your inner minimalist.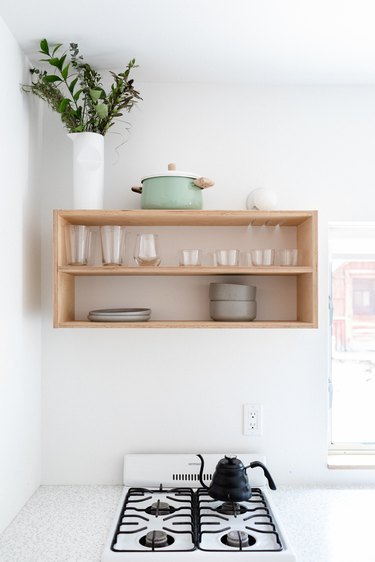 Keep a kitchenette streamlined and clutter-free by selecting everyday pieces that are aesthetically pleasing and the perfect scale. This Scandi-inspired space is approachable yet sophisticated thanks to practical open shelving, a pared-down assortment of dinnerware, and a soothing color palette. A sculptural metal tea kettle is an eye-catching addition that helps ground the airy space.