Storing firewood properly means that it doesn't take as long to dry out after a rainy period. If you build a firewood shed, rain is not a problem. There are many different types of firewood sheds that can be built. Some are akin to dog houses, constructed small and able to store just enough wood for a small fire. Others are large working sheds in which you can cut wood and store enough to last an entire winter. The type that you build will depend on your needs.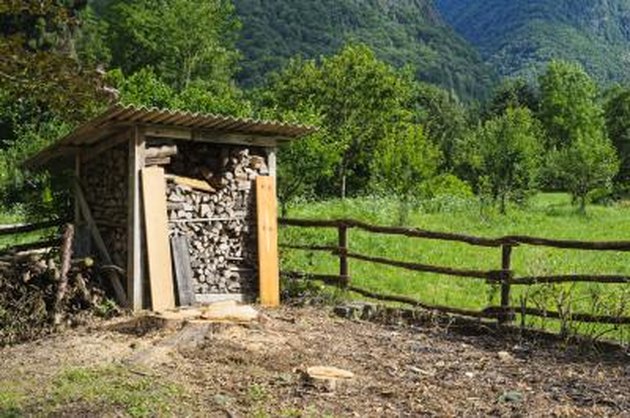 A stand alone firewood shed is set apart from the main structure of the house. It can be large or small, but is often smaller for stability. Stand alone firewood sheds are usually made out of planks nailed together to form a small square shed. They can be purchased from most hardware stores either already completed or in a kit which is easy to construct.
Ideal for people living in harsher climates, where getting firewood from the shed needs to be quick and efficient. A leaning firewood shed is built like an extension of the house. Often there will be a door or hatch leading directly from the house to the shed with no need to go outside. These sheds are usually custom built to fit onto the house and can be expensive.
A working shed is ideal for climates that do not get good summers. They are large structures, usually free standing, that have foundations for sturdiness. The firewood shed will contain several areas for storing separate types of wood: dried, cut, and impossible-to-split pieces. The working firewood shed will usually have vents and a window or two to allow air to circulate through the wood and dry it out. Overhanging roofs are common as they provide a sheltered area to stack drying wood in the summer before storing inside.
For DIY enthusiasts and people on a budget, a firewood shed can be easily constructed for around ten dollars if you have a supply of wood. The basic plans were first published in Cottage and Country Home Plans, and are still available on-line. (See Resources) The main structure is made from several planks and four main supports. The roof is angled backwards to provide run-off and the front is left open for ventilation. Although not the best firewood shed, it will provide suitable shelter in milder climates.