Things You'll Need
Liquid dish soap

Water

Bucket

Tack cloths

Butcher paper

Masking tape

Oil-based primer

Oil-based color paint

Paint thinner

Paint sprayer
Tip
Paint on an overcast cool day with no chance of rain. The paint will dry too quickly in hot sun, and metal can be hot to the touch.
Warning
Avoid water-based paint since it may not be as weatherproof as you would like.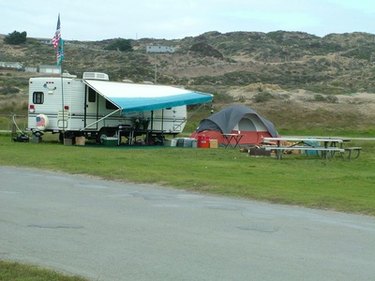 Recreational vehicles (RVs) are just like large cars; over time, the shiny paint gets chipped, wears down and begins to show age. The main reasons to paint an RV include condition of the existing paint and a desire to jazz up the boring beige or white exterior. Since RVs are quite large, a paint sprayer will allow you to evenly and efficiently coat your RV with your preferred color paint.
Step 1
Purchase an oil-based paint designed to stick to your RVs surface (such as fiberglass or aluminum) from an auto paint store. You will need a color paint, primer paint and paint thinner.
Step 2
Combine 2 tbsp. liquid dish soap with 2 gallons hot water in a bucket. Place a tack cloth in the bucket.
Step 3
Wash the exterior of your RV with the soap solution. Remove all the grit, grime and dust before you paint so the particles don't get trapped under the new paint job. Allow the RV to air dry.
Step 4
Cover areas you don't want to tape, such as windows or metal trim, with butcher paper, using masking tape to stick the paper.
Step 5
Thin out 1 gallon of oil-based primer with 1 pint of paint thinner. Pour this into the paint sprayer, and set the pressure to 50 psi.
Step 6
Spray the primer over the RV. Work the sprayer back and forth to cover the entire area. Don't apply so much that you get drips. Allow the coat of primer to dry the recommended wait time on the label.
Step 7
Clean out the paint sprayer. Pour the colored paint into the chamber. Apply one coat of exterior paint in the same manner that you applied the primer. Wait for the paint to dry the recommended wait time on the label.
Step 8
Apply a second coat of paint to the RV. Let this dry.
Step 9
Remove the butcher paper and masking tape from the taped-over areas.
---
A successful website writer since 1998, Elton Dunn has demonstrated experience with technology, information retrieval, usability and user experience, social media, cloud computing, and small business needs. Dunn holds a degree from UCSF and formerly worked as professional chef. Dunn has ghostwritten thousands of blog posts, newsletter articles, website copy, press releases and product descriptions. He specializes in developing informational articles on topics including food, nutrition, fitness, health and pets.