Fieldstone and flagstone are two types of rock used in landscapes. Both are attractive and suited for multiple uses; the choice lies in the look desired and the amount of foot traffic an area receives.
Rough Fieldstone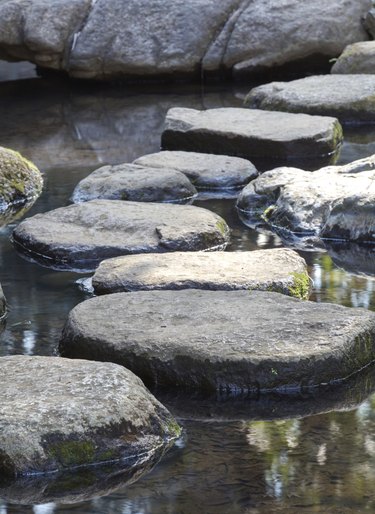 Fieldstones are stones found above ground. Their attractiveness lies in their natural look. They aren't quarried but are byproducts of glacial action or rock outcroppings from which loose stones have fallen. Color and size vary with locale.
Smooth Flagstone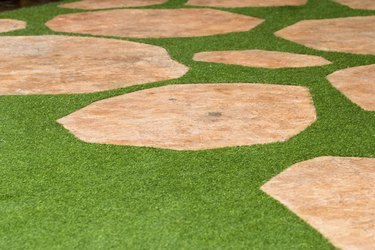 Flagstones are flat, quarried sedimentary rock slabs. Bluestone and limestone are two common kinds. The rocks sometimes are further honed by sandblasting or polishing and can vary in weather-resistance and water-absorption properties.
Different Uses
Flagstones provide a flatter, more even walking surface, so they're often chosen for patios or steps. Fieldstones have rougher surfaces and irregular shapes, often with rounded edges, and look appropriate around ponds or used as natural focal points in a garden. They're also a good choice for dry-stacked walls.
---
Since 1981 Janet Bayers has written on travel, real estate trends and gardening for "The Oregonian" newspaper in Portland. Her work also has appeared in "Better Homes & Gardens," "Traditional Home," "Outdoor Living" and other shelter magazines. She holds a Master of Arts in linguistics from Michigan State University.