Things You'll Need
Medium-size plastic bucket

Water

Liquid dish detergent

Liquid ammonia

Nylon scrub brush

Bleach

Large spray bottle

Masonry sealer

Large paintbrush
Tip
Wear proper protective gear, including gloves and safety glasses, at all times.
Warning
Never mix ammonia and bleach; the resulting gas can be fatal.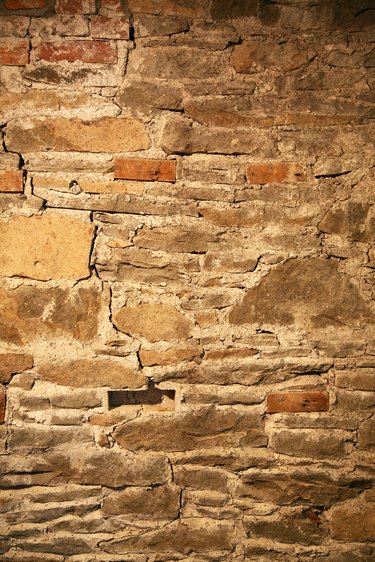 Unfinished basements generally offer an abundance of storage space and may even house heavy-duty appliances such as washers, dryers and deep freezers. However, they are also often rife with problems such as dirt, mildew and dampness. All of these things can take their toll on basement walls made of masonry such as natural stone. Sometimes all it takes is a thorough cleaning to help your stone basement walls look almost new again. Afterward, a good masonry sealer will protect them against moisture and damage.
Step 1
Fill a medium-size plastic bucket with warm water. Add ¼ cup of a grease-busting, bleach-free liquid dish detergent and ¼ cup of liquid ammonia. Agitate the mixture well to create a lather.
Step 2
Dip a nylon scrub brush into the cleanser. Scrub the stones thoroughly with the brush to remove dust, dirt and other muck. Clean each wall completely and rinse well with plain water.
Step 3
Treat mildew only once the stones are rinsed very well. Combine 1 oz. of plain bleach with 1 quart of water in a large spray bottle. Mist the stone with this mixture to kill mildew and freshen the surfaces; skip this step if there is any chance the bleach may mix with residual ammonia.
Step 4
Let the stone air dry for 48 hours. Do not rush, because even stones that feel dry to the touch may be holding moisture within. Sealing over wet stone can lead to internal mold, mildew and even structural problems.
Step 5
Apply two coats of masonry sealer all over the stone walls with a large paintbrush. Allow the first layer to dry for 30 minutes before applying the second. Let the sealer dry undisturbed for 24 to 48 hours.
---
Jourdan Townsend has been writing since childhood. Her articles appear in a collection of student works at the University of Oklahoma as well as in the school's "Honors College Journal." Townsend also composes poetry, some of which can be found in an edition of the "Anthology of Poetry by Young Americans." Townsend holds a Bachelor of Arts in communication.