Things You'll Need
Container

Warm water

Mild detergent

Rags

Riddell helmet cleaning kit
Tip
Use a Riddell cleaning kit to clean heavy stains from the helmet exterior. Do not use cleaning liquids or solvents, as they can damage the integrity of the helmet.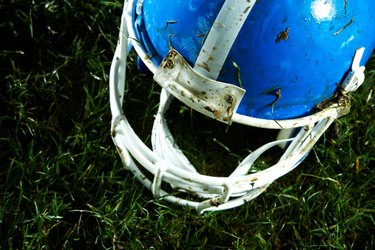 Riddell is a major producer of athletic equipment used by various teams. From middle school aged teams to the college and professional level, Riddell equipment, including football helmets, is often chosen for use. Proper care should be taken of a Riddell helmet to make sure it is in good condition and able to protect the athlete during play. Cleaning a Riddell helmet should be done periodically as part of the care process.
Step 1
Remove the chin strap, ear pads and other pads in the helmet if possible before cleaning.
Step 2
Add one or two drops of mild liquid detergent to a container. Add warm water to the container to make a soapy solution.
Step 3
Wipe as much dirt, grass and loose debris from the helmet as possible with a rag.
Step 4
Dip a rag into the soapy solution and wipe the inside of the helmet thoroughly. Wipe the helmet to remove heavy deposits of dirt and debris away. Rub areas where sweat can collect and cause odor.
Step 5
Rinse the inside of the helmet with a rag dipped in water only.
Step 6
Wipe the ear pads, chin strap and other pads with a rag dipped in the soapy solution. Avoid dipping or soaking the strap or pads in water. Wipe the soapy water and loosened debris from the strap and pads with a rag dipped in water only.
Step 7
Wipe the outside of the Riddell helmet with a rag dipped in soapy water. Use pressure to remove grass and dirt, and be careful to avoid damaging decals and warning labels on the sides or back of the helmet. Rinse the soapy water and debris off with a rag dipped in water only.
---
Keith Dooley has a degree in outdoor education and sports management. He has worked as an assistant athletic director, head coach and assistant coach in various sports including football, softball and golf. Dooley has worked for various websites in the past, contributing instructional articles on a wide variety of topics.