The FryDaddy electric deep fryer provides home cooks with an excellent way to prepare a variety of foods. The FryDaddy contains no controls, with temperature being automatically regulated at the ideal frying temperature for most foods. The deep fryer allows cooks to store the oil for reuse inside the unit in between cooking sessions. Standard dish soap, hot water and a non-abrasive sponge can handle the majority of any cleaning required on the FryDaddy.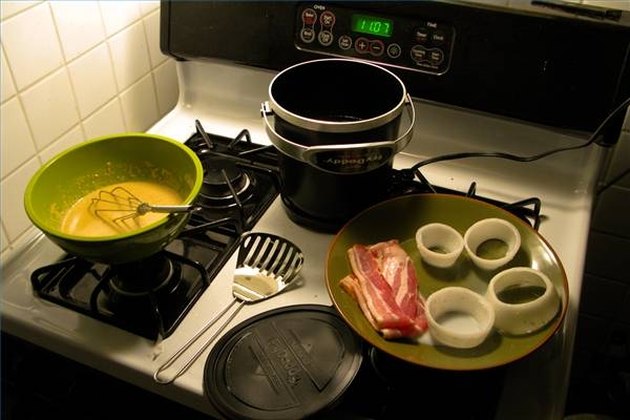 Step 1
Unplug the deep fryer from the wall and detach the cord from the base of the unit.
Step 2
Let the unit cool completely, then remove any oil and discard it or save it for reuse later.
Step 3
Using a non-abrasive kitchen sponge, wash the interior and exterior of the base unit as well as the food scoop with hot, soapy water.
Step 4
Rinse thoroughly with plenty of hot water to remove any remaining soapy residue.
Step 5
Dry completely with a soft cloth. Be sure to remove all excess moisture before reusing the unit. This excess moisture can cause the oil to smoke, foam and spatter.
Step 6
Refill with reserved cooking oil if the oil was set aside prior to cleaning.