Things You'll Need
Warm water

Putty knife

Wooden spoon or clean paint stir-stick
Tip
Use a power drill with a mixing tool, such as a paint mixer, to mix water into the Spackle compound. Spackle will shrink as it dries if you add too much water when preparing the compound. Apply overly thinned joint compound to "over-flush" and sand to flush when dry. Additional layers may be required.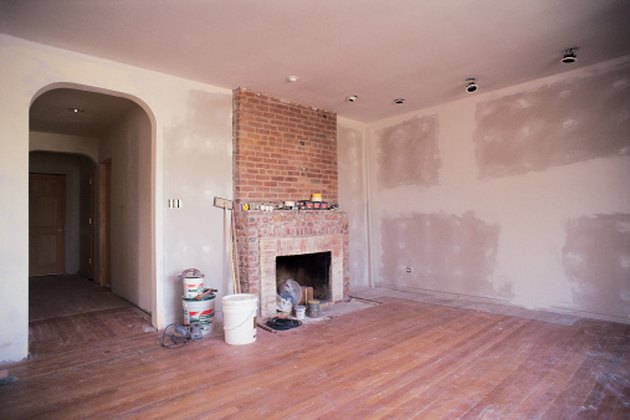 Spackling compound is a pasty joint or hole sealer that comes ready to use right out of the container or as a powder to which you add water to make a paste. With either form, some of the water may evaporate over time causing the Spackle to become hard, dried-out or too thick or crumbly for proper use. But there's no need to toss it and buy more; you can thin hardened spackling compound. Use Spackle compound, or joint sealer, thinned to the proper consistency for projects such as sealing drywall/sheetrock joins or filling nail holes.
Step 1
Mix the Spackle with a putty knife to check its texture. It should resemble that of creamy cake frosting. If it's thick or dried-out and looks cracked, stir or break the compound loose with the putty knife creating cuts or seams for water to seep in.
Step 2
Pour a small amount of warm water over the Spackle. For a gallon of Spackle, start with approximately 1/2 cup of water.
Step 3
Work the water into the compound using the putty knife. Use a crisscross cutting motion or stir until the Spackle becomes pliable. Add more water as needed to form a creamy paste.
Step 4
Stir in a circular motion with the wooden spoon or paint mixing stick until you have a lump-free mixture resembling fluffy cake icing for sealing drywall/sheetrock joins or slightly thicker than smooth peanut butter for filling nail holes. Press any lumps against the inside of the container to break them up using the back of the spoon or the stick.
---

Lorna Hordos
Lorna Hordos is a home-flipping business owner and freelance writer. She writes friendly, conversational business, home and lifestyle articles for Bizfluent, azcentral, Daltile, Marazzi, Lowes, Philips Lighting, WordPress.com and numerous other publications.