Things You'll Need
Stepladder

Pry bar

Claw hammer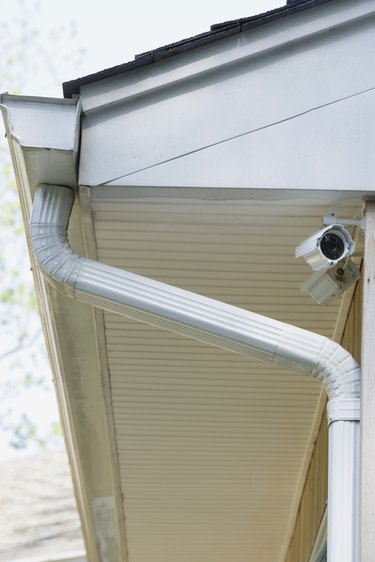 Upgrading the look of a house often includes removing and replacing the aluminum soffit closing off the underside of an eave. The methods used to install the soffit hide the majority of the fasteners behind flashing or under installation channels. This makes the removal process difficult. Attempting to remove the panels in the wrong sequence will lead to frustration, and could cause damage to the house siding or lead to broken windows. Taking your time will reduce frustration and avoid potentially expensive repairs.
Step 1
Setup a stepladder below the mounting flange of the fascia – located at the forward edge of the eave. Ensure the ladder is stable before continuing.
Step 2
Locate the head of a nail running through the bottom flange of the front flashing. Slide the end of a pry bar under the nail head. Tap the end of the pry bar gently with a hammer to force it under a difficult nail. Push the handle of the bar toward the eave to lift the nail. Pull down to rip the nail from the fascia board. Remove all nails from the area. Pull down on the flashing to remove it from the board.
Step 3
Slide the end of the pry bar between the top of an aluminum soffit panel and the bottom of the fascia board. Pull down to release the nails from the bottom of the board. Ensure all nails are removed from the panel. Slide the panel toward the end of the eave to remove it from the J-channel installed on the house.
Step 4
Remove the remaining aluminum soffit panels from the eave using the described method. Locate, pick-up and remove all nails from the ground beneath the eave.
---
C.L. Rease , based in Texas, has been a professional construction and outdoor writer since 2003. His articles have appeared in The News-Press, a local Southwest Florida newspaper and a small Southwest Florida fishing magazine. Rease served a four year apprenticeship to become a union sheet metal journeyman and earned a construction management degree from Florida State University.