A skylight is a window in the ceiling that allows more light into a room. It can pose a problem on summer days with long hours of sunlight and heat. One easy solution is to put up a skylight shade that you can make yourself.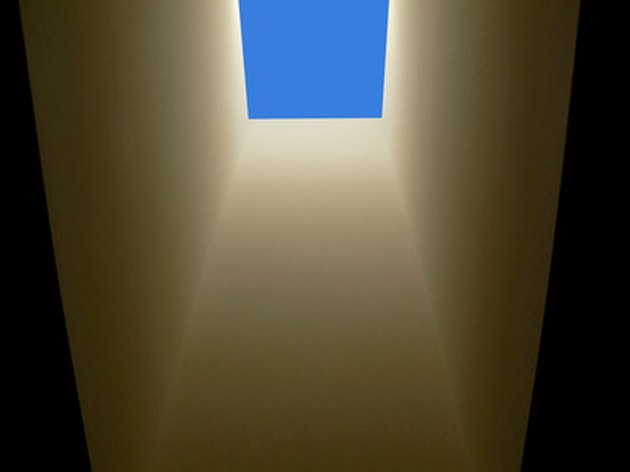 Step 1
Measure the opening of the skylight. Record the vertical and horizontal measurements of the window.
Step 2
Add double the width of your tension rods plus 6 inches to the vertical length you measured. So if your skylight is 16 inches long and your rods are 4 inches wide, add 8 inches for the rods plus 6 inches for a length of 30 inches.
Step 3
Add ½ inch to the horizontal width of the skylight to accommodate the hems. Cut out the fabric according to your calculations. Use good sewing shears to prevent fraying the fabric.
Step 4
Lay the fabric right side down on a table and fold over the long, vertical edges by ¼ inch. Press the folds with an iron to keep them in place.
Step 5
Sew the folded edges closed to make the hems on the sides. Use your sewing machine set on a straight stitch.
Step 6
Fold each horizontal edge over by half the width of the tension rod plus 3 inches. For the 4-inch tension rods, fold each end over by 2 inches for the rod plus 3 inches, for a total fold of 5 inches at each end.
Step 7
Sew the folded edges closed, keeping the seam as close to the edge of the fabric as possible. Use a zigzag stitch to keep the edges from fraying out of the stitch. You will now have two pockets on the ends of the fabric.
Step 8
Slide a tension rod into one of the pockets and compress it until it fits in the skylight opening. Do the same for the other rod. Push the rods as far apart as possible to keep the shade flat and taut.