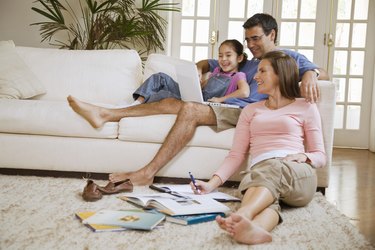 Ranch-style homes originated as an American design in California. These homes rose to prominence throughout the U.S. in the post-World War II economic boom. This was because the design emphasized function over aesthetics. Typical ranch-style design features a single-story house with large windows facing the backyard and a large window facing the front yard.
Origin of Ranch Style
The ranch-style home arose from 19th-century adobe homes in California. These structures -- built to blend naturally with the landscape -- featured living space between rooms rather than traditional hallways. Early 20th-century architects took inspiration from these buildings as well as the stripped-down elegance of Frank Lloyd Wright architectural designs when designing the modern ranch-style home.
Features
The ranch-style home's plain nature has allowed the style to evolve since architects co-opted the design. Modern ranch-style homes feature a large living room situated between the dining area and bedrooms. All ranch-style homes feature a large window overlooking the backyard, an attempt to blend the outdoors with indoor living spaces. Most ranch-style homes are single-story, but adaptations of the style include "raised" ranch-style homes and split-level homes, which are both two-story homes.
Shape
The ranch-style home typically has an L-shape or U-shape design. The L-shape design may feature a garage, kitchen or bedroom in the short leg of the L. The shape allows the design to maximize the number of windows connecting the inside of the home to the outside landscape.
Dimensions
Average dimensions of a ranch-style home are from 1,500 to 1,700 square feet. The actual size of each ranch-style home varies with available space and average cost per square foot in the local housing market. Ranch-style homes may be as large as 2,500 square feet on some properties. Lot size also has a significant influence on the home's dimensions. Larger lots can accommodate larger homes. Smaller lots will encourage modest square-foot dimensions to maximize the amount of outdoor space.
---
Kristin Jennifer began writing professionally in 2010, with her work appearing on eHow. She has five years of experience working as an immigration specialist in Houston and New York City. She holds a Bachelor of Arts in political science and a minor in economics from Barnard College.