Installing unique shelving is a practical and creative way to distinguish your space. Wraparound shelving highlights rooms with high ceilings or wood trim boards. You can put up a wraparound shelf in just a small suitable area around a corner, or you can use one to line an entire floor of a house. A variety of shelving materials can match your home's decor, but you can also paint or stain any wood to match the interior of your home. Store collections, showcase memorabilia and display seasonal decorations on wraparound shelves.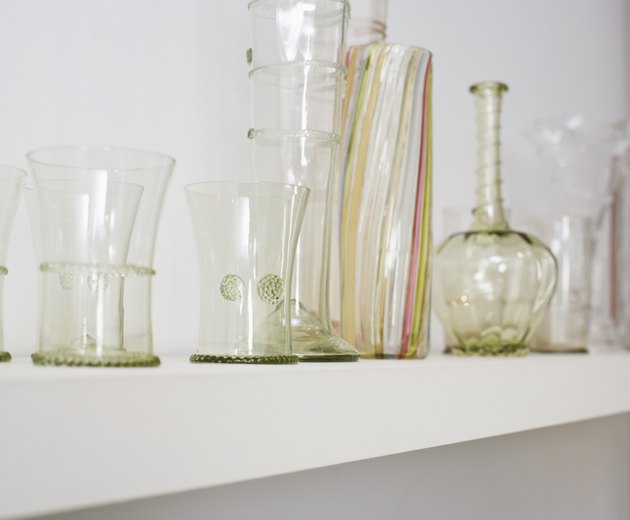 Step 1
Arrange the two wood boards in an L-shaped formation, with the end of one board butting against the side of the other. Set the flat metal bracket along the seam between the two shelves so that half of the bracket is on each side of the seam, and pre-drill holes through the bracket holes.
Step 2
Remove the bracket and apply a layer of wood glue to one side of the seam between the two boards. Replace the bracket and attach it with the 1/2-inch wood screws. Allow the wood glue to set for the time recommended on the wood glue packaging. Sand off any excess dried glue with the sandpaper.
Step 3
Find and mark the placements of the wall studs with the stud finder. Measure the distances between the various studs and transfer those to the bottom of the assembled shelf board. Set the brackets in those positions and pre-drill the bracket holes. Attach the brackets to the wraparound shelf with the 1/2-inch wood screws.
Step 4
Hold the wraparound shelf against the corner of the wall so that the stud markings match the brackets. Set the level above the shelf to make sure that it is straight. Mark the bracket holes for the four brackets. Pre-drill the holes and attach the shelf to the wall with the 2-inch wood screws.