Bed skirts are great additions to your bedroom decorating scheme. They can coordinate with bed linens and draperies, giving your room a decorator look. They also provide a stylish disguise for under-the-bed storage. Tailored bed skirts are simple to make and look lovely with duvet covers. A tailored skirt is made in two parts. The top covers the box spring and can be made from a flat sheet. The skirt hangs straight from the top and has pleats at the foot corners and center sides, with an additional pleat at the foot of a king-size bed.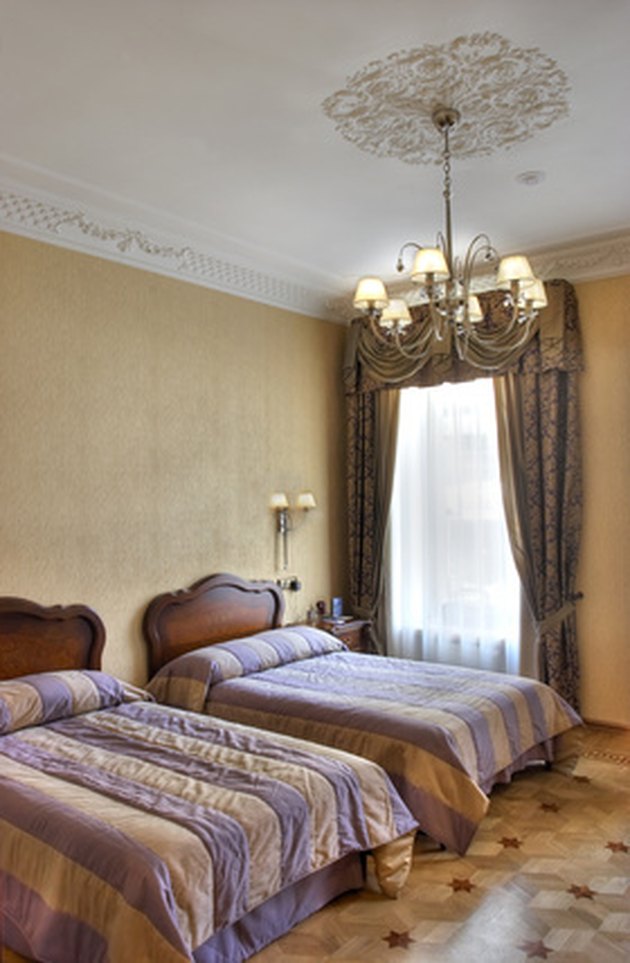 Step 1
Remove the mattress from your bed. Lay your flat sheet over the box-spring base and mark the edges of the base with a non-permanent fabric marker or tailor's chalk. This is your seam line. Mark the pleats at corners, center sides and center end for a king bed.
Step 2
Measure the two lengths and width of your bed with your tape measure. Add these measurements together and then add 12 inches for each pleat — four for a twin, full or queen and five for a king. Add 1 inch for hemming the ends of the skirt. Measure the drop of your skirt from the top of the box spring to the floor, adding 1 1/2 inches to this measurement for the bottom hem and top seam.
Step 3
Mark your fabric the length of your drop measurement. Mark enough strips for the total length measurement of your skirt and cut them out. For example, if your fabric is 54 inches wide, and the total measurement for your bed skirt with pleats and seams is 254 inches and your drop is 20 inches, you will need to cut five strips that are 20 inches long.
Step 4
Stitch all your strips together and press the seams open. Turn up 1/2 inch on the bottom edge of your skirt and then turn up 1/2 inch again and pin your hem. Turn under 1/2 inch at each end of your skirt and pin. Machine stitch your hems on all three sides and press.
Step 5
Pin the skirt to the flat sheet top along the seam line, right sides together, beginning at the head of the bed. The bed skirt should extend 1/2 inch over the seam line.
Step 6
To make a pleat, bring two folds together at the pleat marking. You should have 3 inches of fabric to the right and left behind each fold, forming a box pleat. Pin it in place.
Step 7
Continue pinning, making pleats at corners and center sides.
Step 8
Carefully remove the skirt and top from the bed and stitch the skirt to the top along the seam line. Press the seam toward the top and press the pleats in place.