Things You'll Need
Surface cleaner

Shammy or clean rag

Dry cloth

Masking or painter's tape

Trim spray paint
Warning
Avoid fume inhalation by using a disposable painter's mask to cover your face if painting in a confined area. Also wear rubber gloves.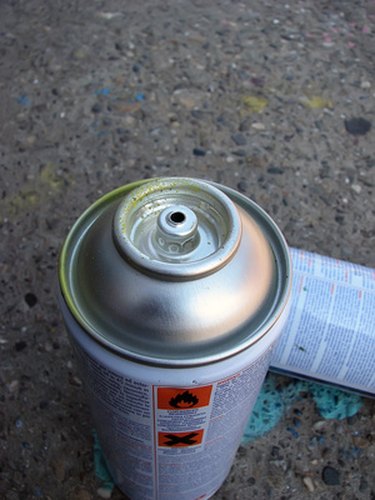 Many homes, offices, and cars have rubberized trim and wall bases that may leave some consumers confused when it comes time to update or repair their color. While some may opt to use standard paint and brush for this task, using a specially-crafted spray paint specific for this task can help make less work and mess for the painter along with a more polished end result.
Prepping Your Work Area
Step 1
Wipe down the area of rubber trim with a clean rag dampened with an all-purpose cleaning solution.
Step 2
Wipe dry with a clean, dry cloth.
Step 3
Cover the area surrounding the rubber trim with masking or painter's tape.
Painting Your Rubber Trim
Step 1
Shake the can of spray paint for at least one minute.
Step 2
Hold the can 8 to 10 inches away from the rubber trim, then press the button down and spray a light coat of paint along the trim evenly using a steady stroke pattern. Allow a drying time of three hours.
Step 3
Apply an additional light coat of paint. Repeat this step until you achieve the look desired.
---
Bryan Ordman is a film school graduate of Columbia College Chicago and has been working as a freelance writer since 2007. His primary focus while attending college was screenwriting. He has written in the past primarily as a film columnist but is now regular writer for eHow and Answerbag. Ordman obtained his Bachelor of Arts from Columbia College Chicago in 2008.