Things You'll Need
Polyurethane sheeting

Cement

Marble chips, glass pieces or small stones for aggregate

Cement trowel

Planetary concrete grinder

50-, 100-, 200-, 400-, 800-, 1,600- and 3,200-grit diamond grinding disks

Wet/dry vacuum

Right-angle grinder with diamond grinding disks

Terrazzo seal
Tip
Creating a terrazzo floor is labor-intensive and time-consuming; it becomes easier as a two- or three-person job.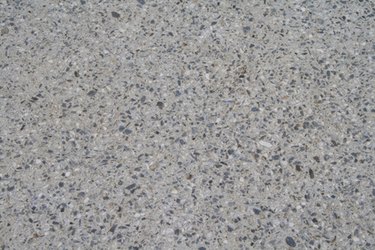 Terrazzo flooring consists of small marble chips, glass pieces or colorful stones embedded in a concrete base and polished to a high shine. Terrazzo floors are labor-intensive to create and time-consuming to install. In the past, trained artisans usually installed terrazzo floors. Today, however, if you have the patience and talent, it is possible to install one on your own. The project will, however, require some special tools.
Step 1
Have your floor evaluated by a structural engineer to make sure that the subflooring is strong enough to withstand the weight of the terrazzo. Terrazzo is made of concrete and is much heavier than other types of flooring.
Step 2
Lay plastic or polyurethane sheets over the subfloor to protect the wood from warping or rotting from the moisture in the concrete. Even after the cement is dry, moisture can continue to deteriorate the wood.
Step 3
Pour cement over the sheeting covering the subfloor. While the cement is still wet, scatter whatever aggregate you have chosen over the top. Spread the aggregate and then trowel the cement with the embedded aggregate to a smooth, even finish. Allow the cement to dry for at least two days.
Step 4
Start the grinding process with 50-grit diamond grinding disks attached to the planetary grinder and begin grinding off the top of the cement and aggregate. Keep the area wet while grinding and work in small sections at a time. Vacuum the slurry created by the grinding using a wet/dry vacuum before moving on to a new section. Repeat this process using progressively finer grinding disks until you finish the final polishing with 3,200-grit disks.
Step 5
Use a right-angle grinder, starting with 50-grit disks, to grind and polish the edges and corners of the floor where the planetary grinder cannot reach. Continue polishing with the right-angle grinder using progressively finer disks until the edges and corners have been polished to the same degree as the rest of the floor.
Step 6
Follow the floor polishing by applying a coat of terrazzo sealer to protect the floor. Allow the sealer to dry according to the manufacturer's recommendations before allowing foot traffic.
---
Peggy Epstein is a freelance writer specializing in education and parenting. She has authored two books, "Great Ideas for Grandkids" and "Family Writes," and published more than 100 articles for various print and online publications. Epstein is also a former public school teacher with 25 years' experience. She received a Master of Arts in curriculum and instruction from the University of Missouri.