Slip covers are a great way to keep furniture clean or freshen up a room. Premade slip covers can be bought, but the fit can be questionable. A custom-made slipcover to fit your sofa can be an easy project for even the novice sewer.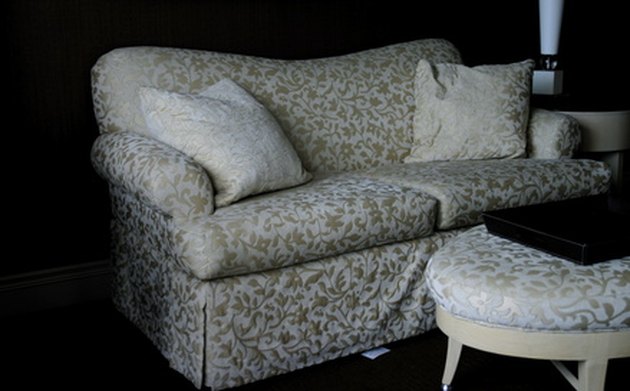 Step 1
Measure the length and width of the sofa. Start from the floor, and stretch the tape to the top of the sofa, across the back and to the floor. For width, start from the floor and measure up the back of the sofa at its highest point, to the seat, over the seat and to the floor in front of the sofa. Add an extra inch or two at each corner for seams and an extra 3 inches on the seat and back for tucking.
Step 2
Measure the arms, starting from the floor to the top of the arm, then down to the seat. Double this number to account for both sides.
Step 3
Add measurements to find how many yards of fabric is needed. The average sofa needs 16 to 20 yards of fabric. More fabric is needed if using a patterned fabric rather than a solid.
Step 1
Drape the fabric over the sofa, fitting for separate pieces for the seat, back and sides. Start cutting fabric at the bottom front of the sofa, where it will be the widest. Allow 1 inch at the edge for seams. Cut fabric for the seat, allowing 2 to 3 inches at the back of the seat for tucking. Pin the fabric to the sofa so it holds its shape.
Step 2
Cut the back next, pinning the fabric firmly at the bottom of the inside back to keep it in place as you pull the fabric over the back. Allow a 1-inch seam at the hem.
Step 3
Pin fabric to the top of the arm at the widest point, allowing enough fabric to drape over to cover the arm on both sides. Cut the fabric to fit the arm, allowing 2 to 3 inches for tucking at the seat and under the arms and 1 inch at the hem and seams.
Step 1
Pin pieces together where they meet, making sure the cover maintains its shape and the fabric remains smooth.
Step 2
Sew one section at a time, putting the slip cover on the couch after each section to recheck the fit.
Step 3
Finish the slip cover by sewing the hem. A simple finish can tuck the end under so the original seam is on the opposite side of the fabric. Hems also can be finished by adding a thin cord of different material.