Things You'll Need
Newspapers

Paper towels

Queen Anne's lace

White spray paint

Spray "snow"

Clippers

Decorative cord

Glue

Florist wire
Tip
Use the dried Queen Anne's lace as a hanging Christmas tree ornament, holiday-inspired dog collar trinket, or decorative addition to your fireplace stockings.
Do not air or heat dry Queen Anne's lace, as the flower heads tend to curl up in a ball and lose their beautiful appearance.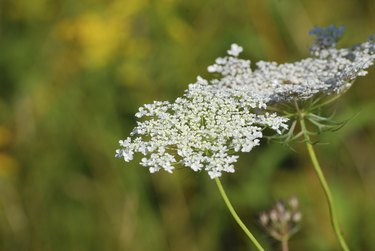 Queen Anne's lace grows wild along roadsides and in alleys across North America. This gorgeous flowering plant grows to a height of 4 to 5 feet with large 4- to 6-inch flower heads that resemble lace. These heads, which are actually hundreds of tiny white flowers, are well suited for a variety of winter and Christmas crafts.
Step 1
Gather an assortment of Queen Anne's lace blooms in late summer while they are in full bloom. Be sure you harvest them after the dew has dried and the blooms are free of moisture. The best time to pick Queen Anne's lace is on a dry, sunny day.
Step 2
Cut the stalks to a length of 4 to 6 inches using clippers and gather them into a loose bouquet. Gently shake the blooms to remove any loose pollen or other debris. Inspect them for insects or insect damage and choose only well shaped specimens that are free of blemishes.
Step 3
Prepare several layers of old newspapers. Place a double layer of white paper towels on top of the papers.
Step 4
Trim the stems closely to the base of the flower head and lay them single file onto the paper towel so they face upwards. If you intend to wire stems to the flowers to use in a floral arrangement, leave a 2-inch section of the stem below the flower head. Gently bend the stem and fold it under the bloom so that it will dry in place, providing adequate room to attach florist wire later.
Step 5
Place another layer of paper towels over the blooms and add several layers of newspapers. Place a heavy weight on top of the newspapers to gently press the blooms. A large book or block of wood works well.
Step 6
Check the flowers daily and re-position them to keep them from sticking to the paper towel. Queen Anne's lace is adequately dried when it holds it shape and does not flop or fold when picked up.
Step 7
Spray dry Queen Anne's lace with white spray paint or fake snow to create a snowflake that is ideal for Christmas and winter decorations. Allow it to dry thoroughly and, if desired, glue a cord to its back for hanging. Queen Anne's lace that has been dried with an attached stem can be wired with florist wire and displayed in floral arrangements.
---
Nannette Richford is an avid gardener, teacher and nature enthusiast with more than four years' experience in online writing. Richford holds a Bachelor of Science in secondary education from the University of Maine Orono and certifications in teaching 7-12 English, K-8 General Elementary and Birth to age 5.