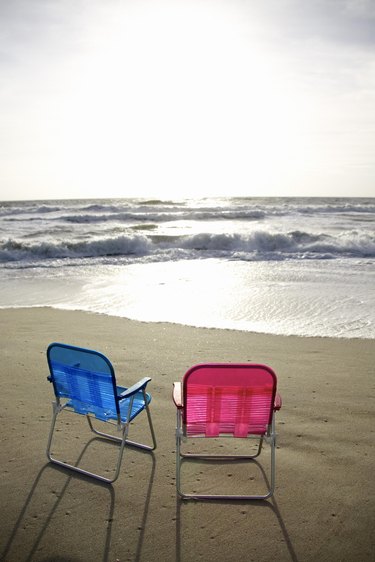 Olefin synthetic fibers are made from polyolefin, a term for plastics that feel oily or waxy. Olefins are polymers, compounds made from non-aromatic carbon and oxygen molecules of propylene or ethylene gas that are strung end-to-end by industrial extruders. The two most important polyolefins are polyethylene, discovered in 1931, and polypropylene.
Polyethylene vs Polypropylene
The term olefin is used to refer to fabrics made of polyethylene or polypropylene, although polypropylene dominates the market. Polypropylene fabrics, introduced in the 1950s, are favored over polyethylene because they have a higher melting point and are generally stronger and lighter than polyethylene. Polyethylene fibers are commonly made into twine, rope, carpets, the interior upholstery of automobiles and shopping carry-out bags. Polypropylene fabrics are more often made into wearing apparel, draperies and curtains.
Properties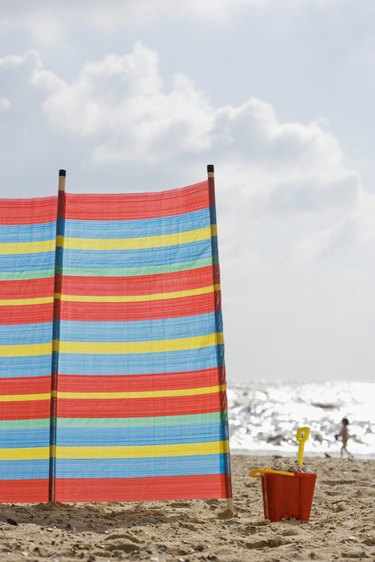 Olin fabrics made of polyethylene do not deteriorate from chemicals, mildew, rot, sweat, sun or weather. They are lighter than polyester fibers, and they have a lower melting point. They are strong and resist soiling and staining. They resist cuts and scrapes, and they dry quickly. They also resist dying so color has to be added to the fabric as it is manufactured. Tumble dry polyethylene fabrics with little or no heat. Wash oil stains with detergent and lukewarm water. Iron only at low temperature. Hose off outdoor carpets.
Special Uses
Polyethylene fabrics are strong and do not stretch, making them useful for folding camp and deck chairs, tarps and tents. Carpets labeled olefin usually contains both polyethylene and polypropylene fibers. High-density polyethylene that resists cuts, ripping and tearing and is impervious to water and airborne contaminants is commonly made into protective suits for people working with biological or chemical hazards. Black polyethylene fabric is used as gardening mulch; it blocks light from weeds yet allows moisture in between its weave.
Environmental Issue
The ability of polyethylene fabric to resist deterioration by bacteria, heat, weather and other forms of rot and deterioration also make it non-biodegradable. It does not decompose, becoming an environmental contamination.
---
A one-time farm boy, Richard Hoyt, holder of a PhD in American studies, is a former newspaper reporter, magazine writer and college professor. While writing 27 novels of suspense, he has lived on sugar cane, pepper and papaya plantations and helped keep bees in Belize.