Drawer slides are what allows the drawers in your cabinets, desk and dresser to slide in and out. Outdated furniture is typically made with molded or carved wood drawer slides, which can be tough to move efficiently. If you're experiencing the frustration that comes with wooden drawer slides, it's time to upgrade.
Today, slides are made from materials like aluminum or stainless steel, allowing for a much smoother glide. Consider installing heavy duty full extension drawer slides for their strength, reliability and functionality. When it comes to installing your new full extension drawer slides, placement is key. Drawer slides can be mounted in four different ways, according to their purpose.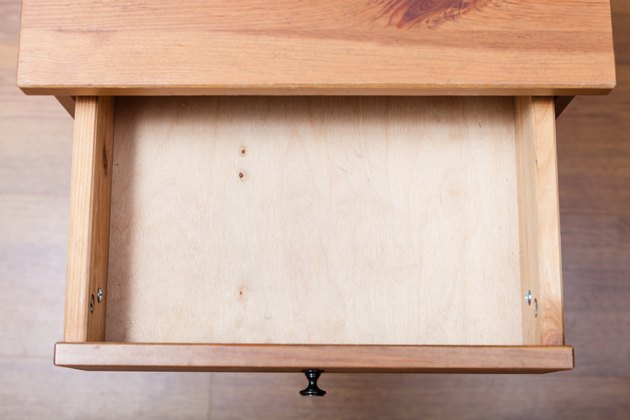 credit:
VvoeVale/iStock/GettyImages
This popular mounting style is commonly seen in kitchen cabinets, office desks and even heavy-duty storage drawers. The design is simple, stable, durable and easy to install.
Side mounted slides are installed on either side of a drawer, just as its name suggests. The aluminum or stainless steel bars in a side mounted slide are lined up and attached both inside and outside of the drawer and fastened with heavy-duty screws. The assembled drawer slides should lock as the drawer is closed to keep everything in place. Once installed, side mounted slides will open and close effortlessly.
These drawer slides are a great budget option, but have a low weight capacity. Typically, center mounted slides are installed in light storage furniture, like side tables or desks.
Unlike other slide types, Center Mounted Slides usually use a single metal bar. The slides are assembled at the outside bottom center of a drawer, stabilized on the interior with a small bracket. A metal bar fitted with a joint extension is attached to the bracket, allowing for a deep drawer opening.
If you need to store heavy household items, this type of slide is for you. These slides are easy to mount and look great. They are commonly used stylistically, as the hardware is visible from the top. Under Mounted Slides are fitted beneath the drawer on each side, providing great stability and support. The metal bars attach to the bottom edge and side of a drawer.
Side Mounted Underneath Slides
Often referred to as a European slide, this slide type is designed to hold a medium load and is great for indoor storage. They are low in cost and easy to install, making them a strong choice for homeowners on a budget.
European slides are mounted on the bottom of each side of the drawer, not centered like classic Side Mounted Slides. This placement provides extra strength and support, making for a hefty drawer slide with a large weight capacity. However, their lack of extension bars means a small drawer opening and limited access to its interior.
You can customize a drawer's range of motion according to your needs with extensions. Save space with three-fourths extension drawer slides, where part of the drawer remains inside the piece of furniture when opened. When space is an issue, this is a go-to slide style.
Whether it's a junk drawer or clothes dresser, it's nice to be able to see the entirety of a drawer's content when opened. That's what you'll get with full extension drawer slides. These slides will seamlessly glide all the way forward when pulled for full access.
If you want even more access than full extension slides give you, consider "over travel" style drawer slides. These pull forward even beyond full extension, providing complete access to drawer space. Because of their dynamic nature, they even allow access underneath counter tops, making them a superb choice for your kitchen or file cabinet.