Things You'll Need
Bar stool with tubular metal legs

Tape measure

Marker

Safety glasses

Hack saw

Fine-grit sanding block for metal surfaces

Rubber stoppers (optional)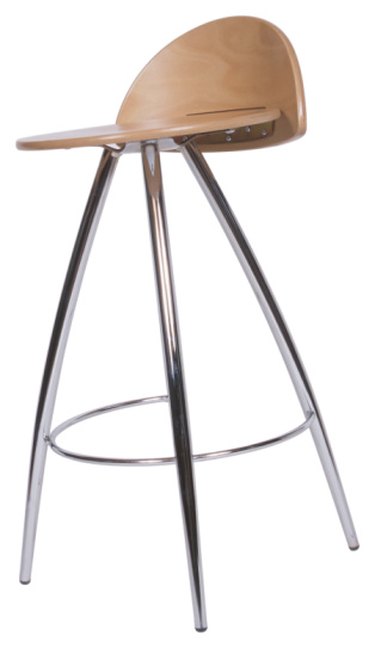 Moving, garage sale find or clearance -- these are all reasons why you would need to cut metal bar stool legs to resize them. Bar stools should sit 12 to 24 inches below the bottom of the counter top. Most metal bar stool legs are made of a hollow, tubular metal which is simple to cut. Precision is needed to make sure your cuts are even so your stool, whether new or old, is perfectly level and comfortable to sit upon.
Step 1
Examine the feet of your bar stool. Some stools have feet or caps that are permanently soldered onto the ends of the legs, while others have rubber or removable stoppers. If your stool does not have removable feet, you will need to purchase rubber stoppers at the home repair or hardware store.
Step 2
Measure the height of the counter where the stool will be used, then measure the height of the bar stool. Decide how tall you would like to make your bar stool. Subtract the desired height from the existing height. Take into consideration the thickness of the rubber stoppers at the feet.
Step 3
Turn the stool on its side. Remove the feet if possible. Measure the amount that you would like to cut off and mark with a marker.
Step 4
Turn the stool to the next leg and repeat Step 3. Repeat for the third and fourth legs.
Step 5
Cut the legs with a hacksaw. Make even, long strokes when sawing. Do not rock the saw back and forth. Apply pressure on the forward stroke only, not the back. The idea is to have a straight cut so the legs will sit level.
Step 6
Sand the ends of the legs so they are smooth and have no rough spots.
Step 7
Place the feet on the ends of the legs and check the height and balance of the bar stool. If it is off a small amount, try to adjust the feet to see if it will help stabilize it.
---
Caroline Baldwin, a corporate communications director located in South Carolina, began writing in 1998. Her work has been published in publications across the United States and Canada including Rolling Stone, Boating Life, Waterski and Wakeboarding magazines. She holds a Bachelor of Arts in communication studies from The College of Charleston.