An undermount tub makes a dramatic statement. Unlike a "drop-in" tub, which has the rim resting on top of the finished surface, the deck covers 100 percent of the surface of the undermount, and the opening in the deck replicates the exact opening for the tub.The tub comes in a variety of shapes, including square, shell heart and oval. Material types include fiberglass acrylic and porcelain.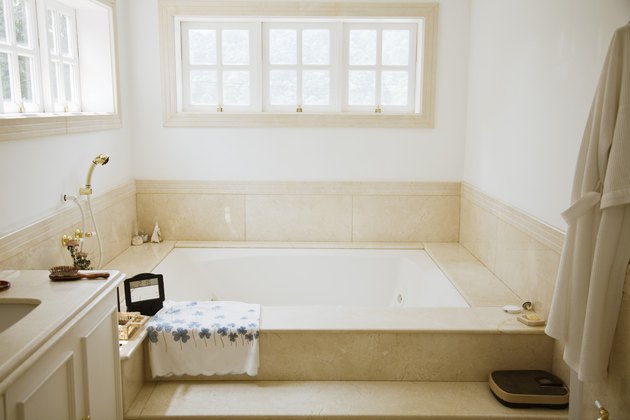 Step 1
Shut-off the hot and cold water valves. Remove the old tub and disconnect the drain. Check the floor for signs of disrepair or damaged. Ensure the subfloor and the floor joist are structurally sound and can support the new tub. Repair or replace damaged materials as necessary. Check the floor with a carpenter's level to verify a level surface.
Step 2
Measure the height and width of the tub with a measuring tape. Construct the tub framing for each side of the tub that does not rest against a wall. Use straight 2-by-4-inch stud-grade lumber to make the wall sections. Cut two pieces of lumber the same length for each section -- the top and bottom plates. Make the height of the wall sections the distance of the subfloor to the tub's top surface.
Step 3
Place two pieces of lumber apart. Cut 2-by-4-inch studs and place the boards 16 inches on center between the plates. Use 3-inch-long screws to secure the sections together. Use construction adhesive and screws to attach the frame sections to the wall and the floor. Install the drain assembly on the tub according to the manufacturer's instructions.
Step 4
Install the legs on the tub and place it in the enclosure. Make sure the weight of the tub rests on the floor. Check for proper level. Use wood shims to level the tub if necessary. Apply mortar to the subfloor around the legs and bare floor to help steady the tub and keep it in place. Connect the tail pipe into the trap.
Step 5
Cut along the dotted lines on the template, which came with the tub, for the dimension of the cutout of the plywood. Use a saber saw to cut the plywood. Sand the edge of the cutout. This creates a smooth surface for applying the finishing material.
Step 6
Apply plywood to the enclosure. Secure it with 1-inch screws. Cut an access panel, if necessary, to reach the drain or accessories if installing a whirlpool tub. Follow the manufacturer's instruction for installing the faucet valving and spout tee.
Step 7
Test the lines for leaks. Run water into the tub and check the drain for leaks. Secure the decking to the top of the tub. Insert 1-inch screws into the top plates. Install marble, ceramic tile or other water-resistant finish. Apply silicone sealant along the joints.