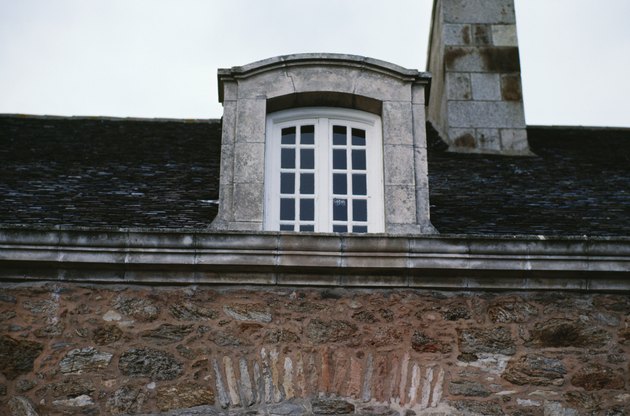 Dormer windows have long been a part of American architecture. The build-outs, cut into the roof and aligned with the attic, provide additional space and let in light. In recent decades, however, a new kind of add-on appeared. Floating, or "fake," dormers convincingly imitate the look of the real thing but are strictly cosmetic, offering no source of space or light. Buying fake dormers for your roof hinges on correctly assessing your home's look and feel.
Step 1
Contact your neighborhood association, condo board or housing authority regarding your intention to add a fake dormer. Though dormers, both real and fake, are typically allowed, you need to know of any construction or design restriction that applies to your neighborhood.
Step 2
Measure the width of the roof to determine the location of the dormer. Plan for a single dormer to sit squarely in the middle of the roof. For two dormers, plan to place them at equal distance from the middle on either side of the roof for a balanced look.
Step 3
Acquire bids from contractors or handyman services. Though it involves no removal of a roof section, the fake dormer is nonetheless a construction project and a risky rooftop one.
Step 4
Determine the style of the fake dormer. The gable style, with its pointed top, complements Colonial, Georgian, Queen Anne and Tudor-style homes. Hipped dormers, with their sloping fronts, are a choice for Prairie or French Eclectic architecture. The lean-to style of the shed dormer goes with Dutch Colonial and bungalow homes.
Step 5
Visit a home-improvement center to choose your fake dormer. Bring the measurements of your roof to help the customer-service representative determine the best model for your roof.
Tip
Though fake dormers are cosmetic additions, you may cut a hole in the roof beneath it and install a vent to promote airflow.
---
Susan Salter is a Michigan-based writer and editor whose articles have appeared in magazines as diverse as World Energy Monthly Review and Michigan's Most Eligible. She has also contributed articles to several reference books and is an advertising copywriter whose employers included a global ad agency and a Fortune 500 company.