Things You'll Need
5-gallon bucket

Warm water

3 tbsp. liquid dishwashing detergent

Nylon scrub brush

Old toothbrush

Sponge

Towel

Wire brush

Spray metal primer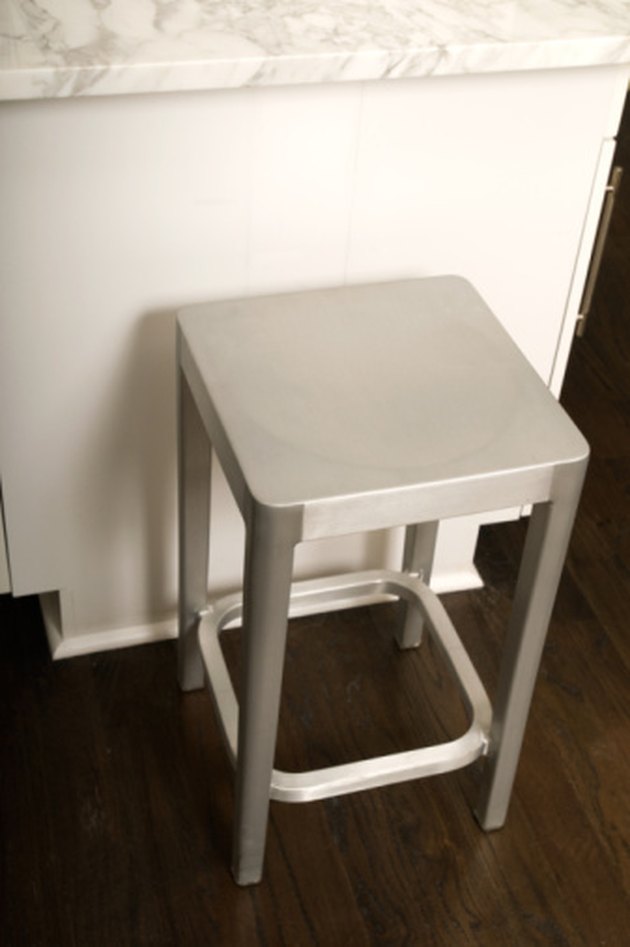 Metal furniture collects dust and grime just as easily as wood or plastic furniture, and has the added risk of developing rust. Whether your metal furniture is used indoors or outdoors, it can benefit from a regular cleaning schedule to remove any accumulated debris. During your cleaning, also spot-treat any rusted parts of the piece. Cleaning the furniture outside will be easier and lessens any mess.
Step 1
Take the piece of furniture outside on a sunny, dry day. Remove any cushions or fabric covers.
Step 2
Fill a 5-gallon bucket with warm water. Add 3 tablespoons of liquid dishwashing soap.
Step 3
Dip a nylon scrub brush into the warm, soapy water and scrub the entire surface of the piece of furniture.
Step 4
Dip an old toothbrush into the water and use it to scrub any grooves or corners that the larger brush could not reach.
Step 5
Rinse the piece of furniture with clean water from a garden hose. If there are unremovable pieces of fabric on the piece, rinse out a sponge and run the damp sponge over the fabric to remove any dust or dirt.
Step 6
Wipe the furniture dry with a towel.
Step 7
Remove any rust spots by scrubbing them with a wire brush until all of the rust flakes off.
Step 8
Spray the bare spots where the rust was with a spray-on metal primer. Allow the primer to dry according to the package directions. Once it dries, you can paint over it or leave it as it is.
Step 9
Replace any cushions or fabric covers and take the piece back inside.
Step 10
Apply a coat of liquid or solid car body wax to the metal parts of the furniture. Follow the package directions for application instructions.
---
Based in Richmond, Va., Dawn Gibbs writes about topics such as history, fashion, literature, crafts, alternative medicine and healthy living. Her work has appeared on GreenDaily.com and several style websites. Gibbs holds a Bachelor of Arts in history from Virginia Commonwealth University.