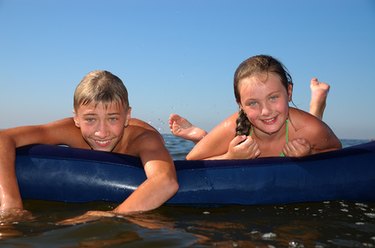 Old air mattresses, also called air beds, pose a difficult dilemma for recyclers. Because many air mattresses are made from plastic with PVC, many recycling centers don't accept them on a routine basis. This is because PVC leaks dioxins as it breaks down. Options for recycling these air mattresses include converting it for different uses or locating a recycling center that accepts these items.
Recycling Centers
Step 1
Lay the air mattress outside and use a garden hose to clean off any mildew or dirt. The recycling center may ask that the mattress be in acceptable condition.
Step 2
Contact your local waste management facility and ask for a list of recycling centers that accept PVC.
Step 3
Phone these centers to find out what the requirements are for recycling air mattresses. Some centers have dates each year when they accept hard to recycle items such as PVC plastics. Make a note of the dates and plan to bring the mattresses to the center during this time.
Step 4
Contact outdoor gear companies and ask if they accept air mattresses to be recycled into fleece clothing. Outdoor gear and clothing maker Patagonia accepts many types of plastic for use in its fleece products.
Recycled Uses
Step 1
Cut the air mattress at the side seams and remove the top and bottom of the mattress. Use these as tarps for gardening, to cover firewood stacks, or as drop cloths for painting or household chores.
Step 2
Patch any slow leaks on the air mattress and use it as a pool toy.
Step 3
Spread the newly cut tarps out for outdoor carpets on decks or sidewalks.
---
A former Alaskan of 20 years, Eric Cedric now resides in California. He's published in "Outside" and "Backpacker" and has written a book on life in small-town Alaska, "North by Southeast." Cedric was a professional mountain guide and backcountry expedition leader for 18 years. He worked in Russia, Iceland, Greece, Turkey and Belize. Cedric attended Syracuse University and is a private pilot.